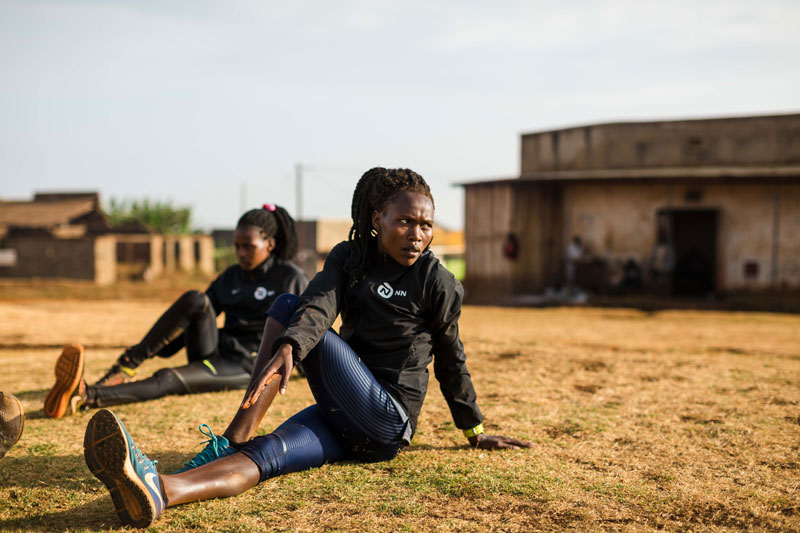 Cape Town – The FNB Cape Town 12 ONERUN has secured its first big name with the announcement that Uganda's 10 000m Commonwealth Games Champion Stella Chesang will be on the start line on Sunday, 20 May 2018.
Commonwealth Champion sets sights on FNB Cape Town 12 ONERUN
The 21 year old who took control of the women's 10 000m final in Brisbane in the final 2km, was speaking from Kapchorwa (a town in the Eastern Region of Uganda) where she is based. "I am looking forward to competing in Cape Town. My teammate Mercyline (Chelangat) has told me of her race in Durban (FNB Durban 10K CITYSURFRUN – Chelangat won the inaugural race) last year and how fast the racing is. So when I was invited, I was very excited."
Chesang's life has changed dramatically after winning the Commonwealth Games gold medal in the 10 000m. She along with the rest of the Ugandan Team was treated to a big welcome when they landed at Kampala upon their return.
For Chesang this was a big breakthrough as she was only added to the team to the Commonwealth Games on the final day of the selection window and only as Uganda's third choice for the team. Given the chance, she took the opportunity with open hands and controlled the race in the last 2km. A 4th place finisher in the 5000m at the 2014 World Junior Championships, Chesang has improved rapidly since then and took the world by surprise when she romped home to victory in the World Mountain Running Championships in Wales in 2015.
"Winning the world title wasn't all that difficult as we train at altitude (in places over 2100m) and we run on terrain that is in the mountains. The technical parts of the race were a bit difficult as we don't really train on those. That race however showed me what I can do. I have grown in confidence since then."
Chesang has a good turn of speed and will be difficult to beat on 20 May at the FNB Cape Town 12 ONERUN with personal bests of 15:10.30 in the 5000m (22 May 2016 – Hengelo, Netherlands) and a 31.54 time for the 10km on the road which she ran in Berlin in 2017 to finish second in the Great Berlin 10km Road Race in October.
"I have spent some time recovering from the Commonwealth Games and had a few appearances to do, but I am now focusing on my training again to be ready for Cape Town." If Chesang is anything like her training partners, Joshua Cheptegei and Mercyline Chelangat, then she is a diamond in the making, having set four personal bests in 2017 in the 800m (2:08.04 – 20 July, Kampala, Uganda), 10km (31:54); 15km (50:27 – December 3, 's-Heerenburg, Netherlands) and 4km (12:23 – October 15, Biella).
"Long term I see my future on the road, but for now I will do track, cross country and road racing as I believe that is important for my improvement." Chesang has the example of Cheptegei to back up her thinking as this is the route that the World Champion 10 000m silver medallist has also followed.
South Africa's top female runners will have their work cut out for them come Sunday, 20 May 2018 for the fourth running of the FNB Cape Town 12 ONERUN.
EVENT INFORMATION: FNB Cape Town 12 ONERUN
Date: Sunday, 20 May 2018
Start Venue: Woodbridge Island, c/o R27 and Loxton Road, Milnerton (Cape Town)
Finish Venue: Bree Street (Cape Town, CBD)
Entry Fee: Standard Entry: R170 (licensed) / R205 (unlicensed)
Gold Package Entry: R850 (licensed) / R885 (unlicensed)
Charity Support: When entering online, runners can choose to support either or both the FNB Cape Town ONERUN Charities: Die Burger Kersfonds and The Cape Of Good Hope SPCA.
Facebook: Ctown12 / CapeofGoodHopeSPCA / @DBKersfonds
Twitter: @CTown12 / @SPCACape
Instagram: CapeTown_12 / CapeSPCA
Hashtag: #CT12Run
Website: www.thecapetown12.com
The FNB Cape Town 12 ONERUN forms part of the "FNB Run Your City Series" that includes the FNB Joburg 10K CITYRUN (taking place on Monday, 24 September 2018 / Heritage Day) and the FNB Durban 10K CITYSURFRUN (taking place on Sunday, 14 October 2018).
Runners taking part in all three events will be rewarded with an unrivalled event experience, a FNB Run Your City Series Performance T-shirt and medal on completion of the third race, the FNB Durban 10K CITYSURFRUN, where a special hospitality area awaits.