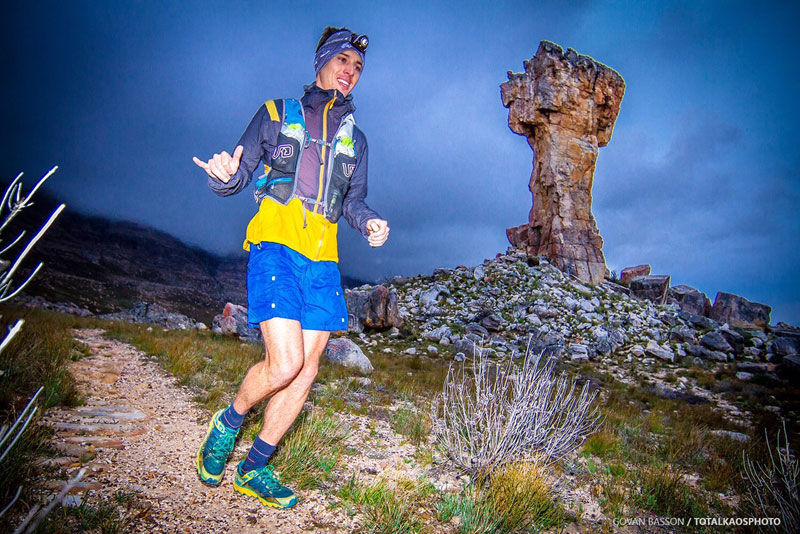 Cederberg Traverse 2016 – Countless hours running, power hiking and crawling in the rain, wind, hail, sunshine, cold, heat, early in the morning running, midday heat running, night running, relentless forward motion for one goal, to complete and compete in the Cederberg Traverse 100km mountain run.
Cederberg Traverse 2016 by James Bosenberg
Ten months of dedicated training. 2037km run. 75 323m of vertical height gained.
The Cederberg Wilderness has been a part of my life for as long as I can remember. My dad used to take me and the family into the land of red rock, leopards and bushmen paintings to get away from the craziness of the city and teach us to appreciate the natural world and show us the simplicity of a real life. It has since become a place to reset and recharge.
My education and appreciation of the mountains grew exponentially when I began running through them, on top of them, around them and over them. It was this swift movement in wild places that awoke my senses like nothing else ever had. My body craved the hurt they dished out and one never beats or conquers the mountains, rather one comes to the mountains to be humbled, as the great John Muir said, "climb the mountains and get their good tidings".
I finally got the chance to sign up for the third edition of the Cederberg Traverse in 2016 and my sole running focus for the year would be that.
For the first four months, I began to build what is called a base level of endurance. I had an awful 2015 from a running point of view and so was starting pretty much from scratch. As May approached, it was the six-month countdown and time to step it up and get serious about training.
I knew I could complete the race but I was not there to only complete it, I wanted to do well in that race. It is kind of strange to say I wanted to do well in a race where my training was completely new and focused. I spent a lot of time devising plans with my good friend and running coach, Erin van Eyssen, who guided me on things I knew little about such as heart rate zones, weekly mileage as well as monthly mileage for a 100km mountain race. For the both of us it was a case of the unknown.
I played with nutrition, heart rate zones, distance, sleep, pace. I did another reccie of the course a month before and ticked off my weekly goals. I had a plan for each significant point in the race, the top of that climb, the flats, the descents and the check points. I knew where I had to be when. There is something powerful in following through on preparation and having to trust in your training and your processes 100%.
The week of the race seemed to crawl by but by Friday evening I was packed and ready to go. Everything that needed to be done was done and I felt as ready as I could ever be.
Saturday morning was an early start as I had a 20min drive where I would be lining up for the 05h00 start with around 40 other crazies. The start line parade consisted of the event director, a photographer and a few bleary eyed supporters. No fanfare out here.
The start of the race takes place at the Sanddrift campsite and we would see it again later that day, for me hopefully any time before 19h00 and sundown.
The race started out at a good but fair pace and I found myself leading the rest of the field up the climb to magnificent Wolfberg Cracks. Anyone who has been there will attest to the raw beauty of the place and one of the most incredible natural sights around. Sadly, we would not be going through the more popular and immense small crack but rather head up through the main larger crack.
About half way up the climb I was alone with Jock Green, one of the country's top ultra-trail runners and national representative, and Andrea Biffi, a young but super impressive and strong runner who has already racked up a number of wins over a variety of distances.
We topped out as the sun was starting to rise and were greeted by a pink sky illuminating the famed rock red of the Cederberg as we made our way to the second icon in these parts, the Wolfberg Arch.
From there we hit our first descent of the day as we headed down Gabriel's Pass on towards Check Point 1 (CP1) at Driehoek 15km in and where I and my support crew were staying. On the descent, Jock and Andrea passed me but I stuck to my plan.
I focused on my feet as I descended and as I turned off the main path, noticed Jock and Andrea had continued on and missed the turn. I called them back and they quickly rejoined me, happy to let me guide them to the check point!
CP1 came up around 5 min ahead of schedule and I had a quick fill of my water bottle before setting off again. Jock and Andrea were in more of a hurry and set off towards the start of the next climb up past Welbedacht Cave. It was at this time, roughly at 23km in, that I started to feel nauseous and was unable to eat.
My heart rate was a little higher then I would have liked and I slowed down a lot up the climb to top out even pace for where I wanted to be at that time but that still meant I lost 5 minutes on the climb.
It was then a relatively flat-ish jeep track to get toSleepad Hut and CP2.Approximately 2km out I was passed by a strong looking Ryan Eichstadt and I checked into CP2 at 27km some 9 minutes off the leaders but right on plan albeit feeling a little weak.
The next section from CP2 to CP3 was roughly 15km andwas largely downhill but don't let them fool you, the descents were severely technical and the flats included section of running in the sand. The highlight of this section for me was the total solitude that surrounded me. There was nothing or no one in sight and this, in the relative wilderness, is both exhilarating and scary.
By the time I checked into Middleburg Hut (CP3) at 43km, I was surprised to hear I was only 16 minutes off Jock Green in first place and 9 minutes off 3rd but I was beginning to really struggle and I knew I would be in serious trouble if I could not get any food down. I just needed to make it to Algeria (60km) where CP4 awaited along with my abnormally large support team.
It was a real struggle to keep moving forward and by the time I checked into AlgeriaI was slightly off pace but more than that, the leaders had put an additional 15 min into their lead in 17km which meant I had moved nearly a minute a km slower over those 17km.
I pretty much collapsed intoHolly's, my girlfriend, arms, and I was shattered. I had not eaten for 6 hours and 33km. I knew the mind could only carry me so far before the body collapsed with no fuel to burn and move forward.
As per the race rules, this stop at Algeria was a compulsory 30 min stop and when I first heard that a few weeks before the race, I was a little annoyed to be honest. I thought I would check in and blast out of there. Oh how wrong I was!
The medics took my vitals, deduced I was ok but would not let me leave until I ate. My friend and flat mate was in serious doctor mode and she practically force fed me a banana, half a burger and a rehydrate.
This was the darkest hour I have ever had in a race. My whole plan was unravelling before me. I cried on Holly's shoulder out of sheer frustration and fatigue. If it were not for her strength, I might have thrown in the towel and called it day. She looked at me with her steely eyes and told me I had to continue. I had no other choice. She knew just how much time and effort I had invested in this race and I was not going to live it down if I stopped. I still has another 40km and over 1000m of climbing to go before I could call it a day and that thought daunted me.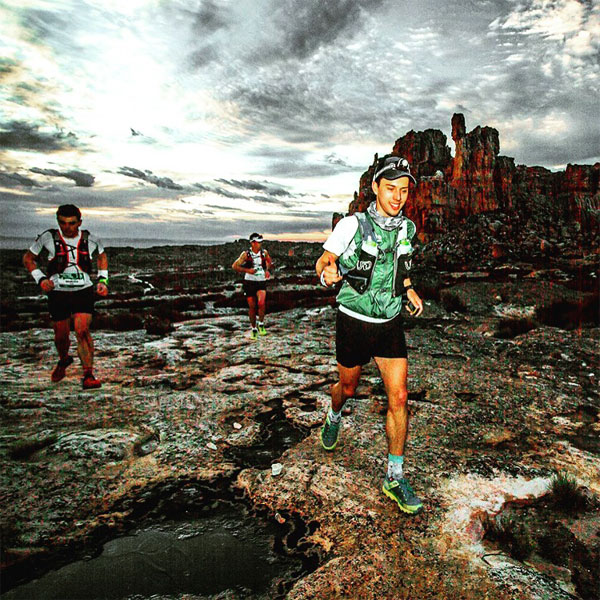 After an hour and 20 minutes I pulled myself together, jumped in the shower changed my clothes and set off once more. I had overstayed by 50 minutes but I still had, in theory, time to break 14 hours but it would require a monumental effort. 03h40 to crack it to be precise. On fresh legs this would be a push but I still dreamed.
There was a flat 5km of river trail before the start of the last big climb of the day and just in those 5km I knew I would not break 14. My body was still low on energy despite the legs feeling good. I simply could not push.
I started the climb and again went to a dark place where I considered turning back and waiting on the side of the road for someone to pick me up, but once more I thought of the sacrifices made, the promises to myself and suddenlydared myself to quit. I slowly began to shift my attitude and swallow my pride. The goal became sub 15 hours and 4th place, granted I could find it in me to eat.
After what felt like eternity the fifth and final check point was ticked off at 80km and I "only" had 20 to go. I checked into Sneeuberg Hut and managed to down a small brownie and a baby potato. As I was about to leave, 5th place had crept up and was now leaving the check point with me. Andy Davies looked fresh and would push me to move relentlessly despite the tantrum the body was having. The bushes looked more and more appealing even as the weather was moving in.
Time to tick off the last attraction on this route, Maltese Cross, and it was shortly after that on the technical descent that I put a little bit of breathing space between Andy and myself.
I hit the sandy jeep track I knew to be around 8km from the finish but daylight was fading quickly and my head lamp came back on. I now had no idea where Andy was but every now and then I saw a light out creeping up on me.
All I wanted was to see the lights of Dwarsrivier and when they came into view, I knew it was done.
I ran the last 2km with all I had and held Andy off by 5 min to claim 4th place and 15h10.
I was broken and a little disappointed in myself to have missed my goal but having now had time to reflect, it was still the 7th fastest time run the three years of the event and having lost 4kg in those 15 hours, I can be proud of what my mind managed to do to overcome the lack of energy. It was relentless in its pursuit of the finish-line.
The legs felt great 2 days later and so did my mind. I think those are important indicators to see how my training went.
I believe the plans Erin and I put in place were spot on. One cannot always have the perfect race and not being able to feed absolutely stopped me achieving my goal of 14 hours. Perhaps the only two changes I would make are doing more higher intensity runs where I mimic the race day heart rate and entering more races. I think getting into that competitive environment where your heart rate, adrenalin etc are pushed no matter what you goal for that race is.
Would I do it all again? You bet.
See you on October 14th. A good omen for a push at 14 hours.
Cederberg Traverse 2016 written by James Bosenberg