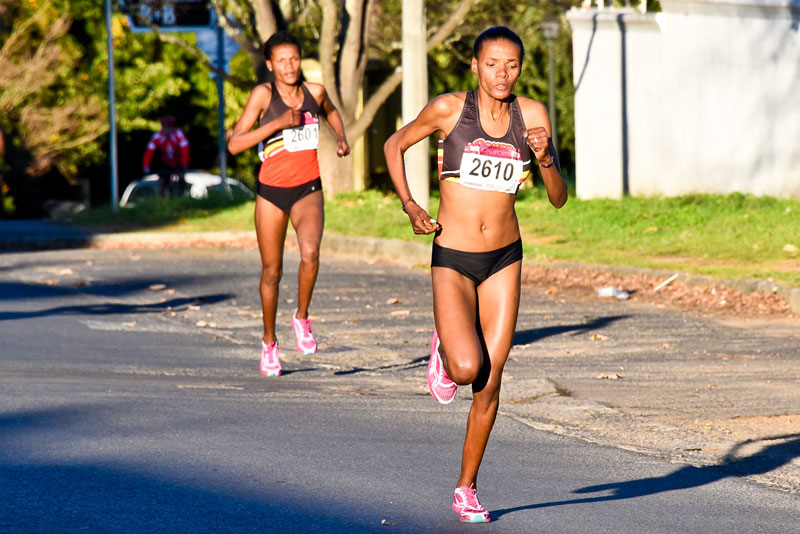 Stellenbosch – Phalula sisters, Lebo and Lebogang were among a strong line up of athletes that toed the line at the Totalsports Women's Race in Stellenbosch on Monday, 10 August 2015. Proving to be in a league of their own, there was no stopping these PUMA ambassadors as they set the pace from start to finish, claiming gold and silver in impressive times of 33 minutes 16 seconds and 33 minutes 36 seconds respectively.
"I was hoping to beat my personal best time today, but it was just too cold," laughs Lebo. "I couldn't start as fast as I wanted to, so I decided to just go for the win. The route was flat and fast. It was clearly measured by a runner. I am grateful to be part of such a major event that celebrates women. It encourages and motivates us to take care of ourselves. I will definitely be back next year, but I feel that this event should not be won by only one person. I would like to see the young stars come out and do better than us."
After claiming gold at the Totalsports Women's Race in Johannesburg on Sunday, 09 August 2015 LebogangPhalula was happy to settle for second place in Stellenbosch. "I had fun and really enjoyed my race. My sister was just too fast for me today. After racing in Johannesburg on Sunday, finishing in the top five today would have been a bonus. I took part in all three Totalsports Women's Races this year (Durban, Johannesburg and Stellenbosch). I did it to test my fitness and am happy to say that I am definitely improving."
After placing 4th in the Totalsports Women's Race in Durban in July, Nolene Conrad was happy to secure the last spot on the podium in Stellenbosch with a well-deserved finishing time of 33 minutes 55 seconds. "The turns on route were tricky, but I had a very good race. It is nice to have a race that is only for the ladies. It gives us a chance to run alone, plus the atmosphere on route was great. I love Stellenbosch."
Acclaimed KFM personality, DJ TwalaNg'ambi joined in on the Women's Day celebrations by supporting runners and walkers as they passed by the Fedhealth Fan Zone.
All Totalsports Women's Race Stellenbosch entrants received an exclusive fitted Tee, while finisher's bracelets were handed to runners and walkers as they crossed the finish line.
The Women's Day celebrations were closed off with an energetic performance by SAMA award winner, Lloyd Cele.
Taking place in Stellenbosch the day after National Women's Day, the Totalsports Women's Race supports PinkDrive, a Non-Profit Company (NPC) that is committed to improving breast cancer awareness, education, and providing and offering services to women across South Africa.