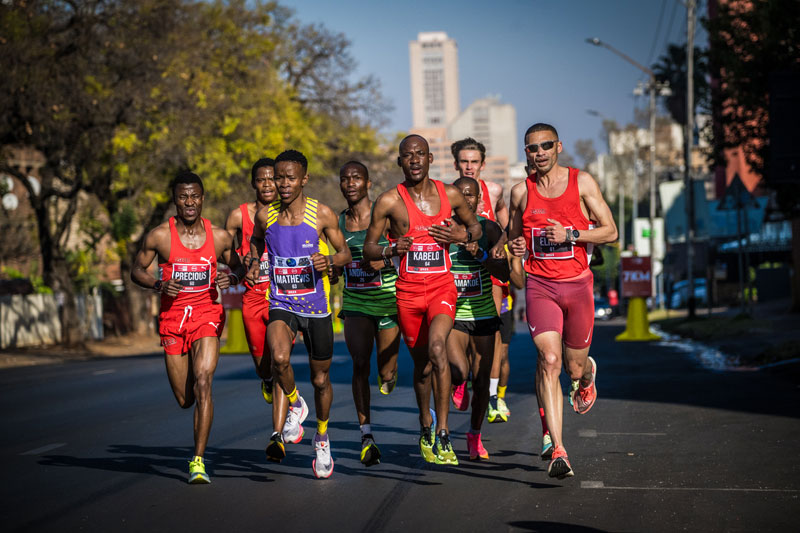 Kabelo Seboko-Mulaudzi (South Africa) made it two for two in the 2023 Absa RUN YOUR CITY Series as he claimed line honours at the inaugural Absa RUN YOUR CITY TSHWANE 10K on Sunday 27 August 2023, while Ethiopia's Debash Desta secured the top spot on the podium in the Women's Race.
Kabelo Seboko-Mulaudzi, Debash Desta win inaugural Absa RUN YOUR CITY TSHWANE 10K
Seboko-Mulaudzi and a big pack of 10 runners ran easy for the first 5km of the undulating course that started in the shadow of the iconic Union Buildings in Tshwane at 8am. Included in the pack were SA 10km Record Holder, Precious Mashele, SA 5km Champion Nicholas Seoposengwe, two time Olympian, Elroy Gelant and fast improving Mathews Leeto, as well as Lesotho International, Namakoe Nkasi and Ethiopian, Adisa Wake.
Shortly after 5km, the surges started, with first Gelant driving the pace, before Leeto took over, but it was a hard push by Nkasi around 7.7km that finally broke the pack of ten and whittled it down to seven. Mashele put in a surge around 8km, before Seboko-Mulaudzi started to drive the pace. The 25-year-old winner of the Absa RUN YOUR CITY DURBAN 10K, Seboko-Mulaudzi, who had joined the prestigious sub 28min club in Durban, kept the pressure up and by 9km the lead group was down to three, Mashele, Wake and Seboko-Mulaudzi. Mashele made one final push for the line, but it was Seboko-Mulaudzi who finished stronger, crossing the line in 29:12, with Mashele second (29:14) and Wake rounding out the top three (29:15).
"The pace was not fast," said Seboko-Mulaudzi, "so after 5km I tried to pick it up. The slower pace made me confident that I would be able to run hard in the second half of the race and win." Asked about his back-to-back wins at the Absa RUN YOUR CITY Series, Seboko-Muluadzi was predictably, ecstatic. "Ï am very happy, to win back-to-back is a great feeling and show's I am in great shape."
The Women's Race was clearer cut than the men's, as Ethiopia's Debash Desta was in control from as early as the 3km mark. The 21-year-old Ethiopian put in a surge after 3km that split the leading women, a group that included Glenrose Xaba, Neheng Khatala, Cacisile Sosibo, and Ethiopia's Getenesh Sase Agafaw and Diniya Kedir Abaraya.
While Desta was in full control of the front of the race and in winning, equaled her PB of 32:14, there was a fierce battle brewing for second and third between the abovementioned. In the end the two Ethiopians were able to break away and claimed second and third to make it a clean sweep for Ethiopia (Agafaw 2nd – 32:46, Abaraya 3rd – 32:48) with Glenrose Xaba finishing 4th and first South African (33:23).
Celebrating its Tshwane debut, the Absa RUN YOUR CITY TSHWANE 10K attracted an impressive field of just over 7000 entrants.
Absa's Group Chief Marketing and Corporate Affairs Officer, Sydney Mbhele, said, "Congratulations to the winners of the Absa RUN YOUR CITY TSHWANE 10K. Your exceptional performances have set a new standard of excellence and demonstrate the countless hours of training and preparation invested. Your achievements will forever be marked in the history of this event, inspiring future generations."
"Well done to all the individuals who participated in the race. We applaud your dedication to fitness and determination to conquer the steep hills of the capital city. Thank you for being part of this remarkable journey and for inspiring us to continue striving for excellence. We look forward to your continued support as we embark on empowering our communities and promoting a healthier, stronger, and more inclusive society. Together we can do more, Siyabangena," concluded Mbhele.
CHARITY SUPPORT: When entering the Absa RUN YOUR CITY TSHWANE 10K online, runners and walkers could choose to support three local charities: Reach for A Dream, Cotlands and the Tshwane SPCA.
PHOTO CREDIT: Tobias Ginsberg