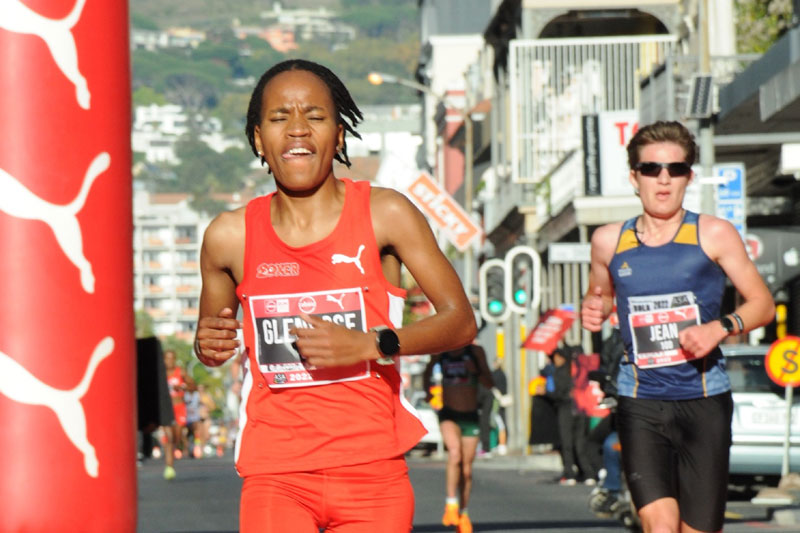 No strangers to the Absa RUN YOUR CITY Series, Kenya's Diana Chesang and Lesotho's Neheng Khatala will return to SA shores where they'll join South Africa's Glenrose Xaba at the inaugural Absa RUN YOUR CITY GQEBERHA 10K on Sunday 02 April 2023.
Chesang, Khatala and Xaba return to Absa RUN YOUR CITY Series this time in Gqeberha
Chesang placed 8th at the Absa RUN YOUR CITY CAPE TOWN 10K in 2022 but returned to South Africa in July to smash a huge personal best at the Absa RUN YOUR CITY DURBAN 10K by finishing second in 31:55, an improvement of 1min and 7sec on her previous best.
"I am looking to break my personal best from last time," said Chesang. This will be the third time she races in the Absa RUN YOUR CITY Series and will be only her third 10km road race. If she improves the way she did in Durban, then something special is on offer in Gqeberha on 02 April.
Khatala is the Lesotho record holder in the 10 000m (33:27.35), 10km (32:06), Half Marathon (69:57) and Marathon (2:28.06), all run in 2022 except for the Marathon which was run in 2021. Khatala set that 32:06 at the Absa RUN YOUR CITY CAPE TOWN 10K in May last year. She had the season of her life in 2022 and is keen on picking up where she left off. Narrowly missing out on breaking 32min in the 10k, she is keen on that breakthrough, and with Chesang racing for a PB in Gqeberha, chances of that coming to fruition are high.
"The Absa RUN YOUR CITY Series routes are fast and flat, especially Gqeberha, Cape Town and Durban", says Khatala. "I like it because every time I line up, I race against good elite runners and that pushes me beyond my limits and that helps me achieve good times."
Khatala went on to say "I love the Absa RUN YOUR CITY Series because it brings together runners, locally and internationally, elite and social. The organization is very good, and I would love to run all five the Absa RUN YOUR CITY Series races in 2023."
It will also be the perfect opportunity for South Africa's Glenrose Xaba to make a big breakthrough. The 28-year-old is a regular at the Absa RUN YOUR CITY Series, fishing top ten and even top five against some of the best athletes in the world. In 2022, Xaba never once finished outside the top five and at the Johannesburg leg ran an incredible 34:03, on a tough course to finish second. Xaba will be one of the leading contenders of the South African contingent to line up on Sunday 02 April. More recently Xaba won the Gauteng North 5000m title with a 15:52.10, showing she is in good form as the Absa RUN YOUR CITY GQEBERHA 10K approaches. "My preparations for Gqeberha are going really well, and I'm looking forward to producing a good time. We'll once again be having international athletes competing and that will continue to push our performances."
Xaba has featured in virtually every Absa RUN YOUR CITY Race, a series which clearly has had an impact on her. "The courses are always measured to international standards; the hospitality, great organisation and entertainment on the route are why I keep coming back."
PHOTO CREDIT: Action Photo