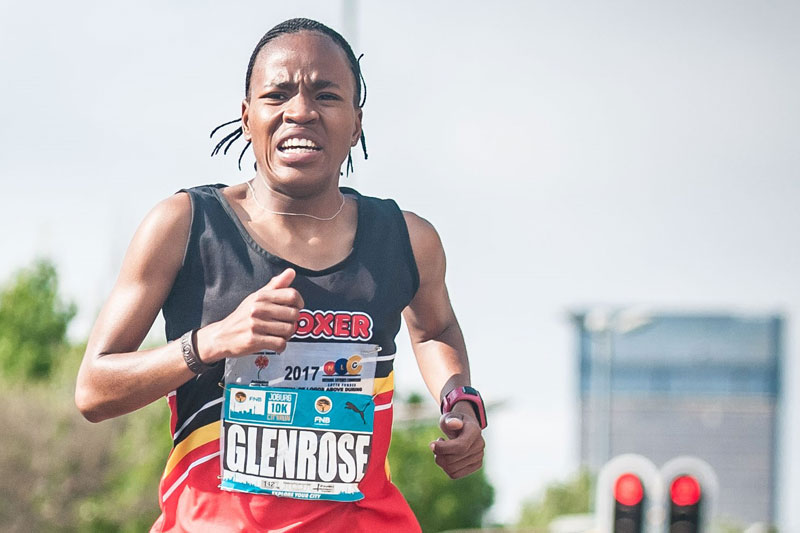 Gauteng – In form Glenrose Xaba is relishing the opportunity to race international competition in the FNB Joburg 10K CITYRUN on 24 September (National Heritage Day) and the FNB Durban 10K CITYSURFRUN on 13 October.
Xaba relishing international competition at FNB Run Your City Series
Xaba has had arguably the best season of her career with Personal Bests in the 5km, 10km, 15km and the Half Marathon.
Amongst those who she will be facing in both races is her arch rival, Tadu Nare from Ethiopia. Nare has so far had the better of the 24-year-old South African, but the former winner of the FNB Joburg 10K CITYRUN (2017) is extremely confident. Hardly surprising after having run 69:46 at the Buenos Aires Half Marathon on 25 August where she finished 5th overall.
"I am excited to be racing in the FNB Run Your City Series. I am looking for a really fast time in Durban and possibly a top three position," said the quiet spoken Xaba. "The FNB Run Your City Series always brings fast athletes, so I know that I will need to be at my best on 24 September and 13 October."
Xaba and Nare have met on six occasions and each time the Ethiopian has had the upper hand. But Xaba feels she is hitting peak form at the right time now after her 69:46 in Buenos Aires. That makes Xaba only the third South African woman to break the 70 minute mark for the Half Marathon behind Elana Meyer (66:44) and Colleen de Reuck (68:38) and the first to do so in 20 years. On her way to that 69:46, Xaba went through 5km in 16:26, 10km in 32:59 and 15km in 49:30.
"I feel my legs are getting stronger now and I am able to handle the faster paces better now, so I am excited about the FNB Run Your City Races, in particular Durban."
Nare though will not be easily beaten. The 18-year-old Ethiopian has a best of 32:36 for the 10km and 70:21 in the Half Marathon. Both were run in 2019. It was at the Half Marathon at the end of July that she last beat Xaba. Both were in their Half Marathon debut and Xaba was 38 seconds adrift of Naru. But with that performance in Argentina at the end of August, Xaba must fancy her chances of finally getting one over her arch rival.
Nare has been very consistent this year. She opened her road season with that 32:36 PB in May and equalled that time in June. Prior to that she had run 32:56 and then went on to run 34:13 at altitude (Pretoria) in August before her final 10km race of 2019 to date in Pietermaritzburg, also in August. She ran 33:06 in that race.
After Xaba won the SA Cross Country title on Saturday 07 September, she can now lay claim to seven national titles over Cross Country, the road and on the track in 3 years. Speaking after her win on Saturday, Xaba was confident of her chances for September and October. "My legs aren't tired. I am strong and after my half marathon (in Buenos Aires), I feel that I have moved up a notch and can look forward to a fast time in Durban in particular." 32:59 is her current best over the 10km. Could we see a low 32 minutes in Durban? There are not many who would put it past her.
The FNB Run Your City Series consists of three events: the FNB Cape Town 12 ONERUN (5th anniversary in 2019), FNB Joburg 10K CITYRUN (4th anniversary in 2019) and FNB Durban 10K CITYSURFRUN (3rd anniversary in 2019). Exhilarating mass participation road races, each event celebrates the splendour of its host city. Runners (and walkers) will be treated to a journey that will highlight iconic landmarks and feature lively performances on route.
Over the short period of 5 years, the series has grown to over 40 000 runners in the three cities and has attained IAAF Bronze Label Status in two events. The Durban race is now chasing Gold Label Status. The significance of that cannot be underestimated. Label Status means that the FNB Run Your City Series will attract some of the best athletes in the world, which means that South Africa's top athletes get to race the best on home soil. As a result fast times will be recorded on the African Continent.
Over the past 5 years the series has delivered compelling racing and fast times which will now be shared with the world through the process of a Livestream. The FNB Durban 10K CITYSURFRUN will be livestreamed as was the Cape Town leg of the FNB Run Your City Series.
EVENT INFORMATION:
Event: FNB Joburg 10K CITYRUN
Date: Tuesday 24 September 2019 (National Heritage Day)
Venue: Start – FNB Bank City in Johannesburg / Finish – Mary Fitzgerald Square (Newtown)
Charities: When entering online runners can choose to support one (or all four) of the event's charities: 1. Cotlands, 2. Johannesburg Heritage Foundation, 3. Johannesburg SPCA and 4. Reach For A Dream Foundation.
Prize Purse: R250 000 / View the entire Prize Purse Breakdown here: http://bit.ly/2GpaC7u
Website: www.joburg10k.com
Event: FNB Durban 10K CITYSURFRUN
Date: Sunday 13 October 2019
Venue: Start – Blue Lagoon (Athlone Drive) / Finish – Beachfront Precinct (near The Bike and Bean)
Charities: When entering online runners can choose to support one (or all five) of the event's charities 1. The Reach For A Dream Foundation, 2. TREE, 3. Durban & Coast SPCA, 4. LIV Village and 5. iThemba Lethu.
Prize Purse: R250 000 / View the entire Prize Purse Breakdown here: http://bit.ly/2MHQ4fd
Website: www.durban10k.com