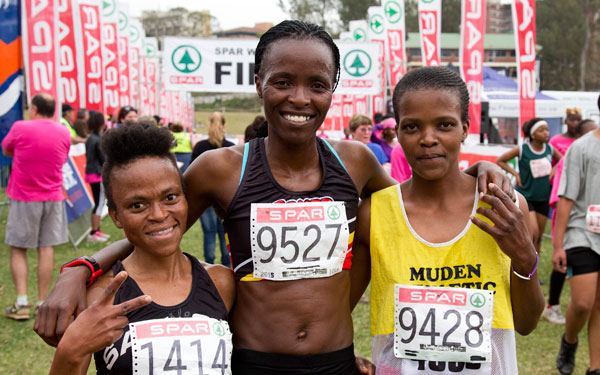 Johannesburg's Tebogo Masehla took top honours today (Sunday, August 23) at the Maritzburg SPAR Women's 10/5km in a confident win with a time of 36.10 chased by a determined and feisty Makhosi Mhlongo to the finish line with 10 seconds separating them.
Tebogo Masehla shows confidence
Early on in the race the two established a comfortable lead ahead of the field, and by half way were jostling for dominance. Going through the 5km mark Masehla was one second ahead with Mhlongo in her slipstream. A relaxed and focused Masehla loped to the finish only after nudging ahead of Mhlongo as she entered the stadium.  As she entered the finishing chute the victorious runner did not waste time looking back, and hopped joyfully as she broke the tape.
This is the second Maritzburg SPAR race that the upcountry athlete Masehla has run, her first in 2010 where she came second to the dynamite package of Poppy Mlambo in 37.37. Currently on the SPAR Grand Prix log, a delighted Masehla was pleased with her race. "It was a tough run, but I really enjoyed it. The hilly route did play with my mind a bit, especially as I was running neck and neck with Makhosi. I know that I would not have done so well if I did not have her to push me."
The diminutive Mhlongo from Hammarsdale, KZN agreed that it was a tough but good race, largely due to the pressure from Masehla  "I was really feeling so strong, and I was desperate to pull away from Tebogo, but she just would not give me the gap; she just resisted. I loved that I was able to use this as an incentive to push myself. I also appreciated the fantastic support from the spectators along the route."
Masehla's last race was the Totalsports Women's Race on August 9 in Johannesburg where she came second in a time of 36.34 behind Lebogang Phalula. Next up for is the Mandela 21 km and the Sanlam Cape Town Marathon at the end of September .
Rounding off the top three was Muden runner, Lindokuhle Gabela after almost a three minute gap in 39.17. All of the podium finishers had competed in the KZN Cross Country Championships yesterday (Saturday, August 22).
The cool, overcast weather made for comfortable race conditions for the record field of 4000 participants.
"Once again Maritzburg did us proud," says Rob Philipson, MD of SPAR KZN. "We have had great reports back from the participants that the support on the road was fantastic as they encouraged people along the way. It is this kind of camaraderie that makes the Maritzburg race such an inviting and special event."
Results:
Open
1 Tebogo Masehla 36,10, 2 Makhosi Mhlongo 36.20, 3 Lindokuhle Gabela 39.17, 4. Nomcebo Mthethwa 39.22, 5 Nobuhle Shange 39.46, 6 Janene Carey 40.06, 7 Thobile Mkhize 40.24,  8 Shani Silver 40.30, 9 Nonsikelelo Mbambo 41.26, 10 Jeannie Bomford Dreyer 41.37
15 -19
1 Nobuhle Shange 39.46, 2 Thobile Mkhize 40.24, 3 Momusa Xaba 42.20
35-39
1 Nonsikelelo Mbambo 41.26, 2 Precious Duma 42.49, 3 Rhonwyn Brayley 49.24
40-49
1 Janene Carey 40.06, 2 Shani Silver 40.30, 3 Sibongile Ziqubu 44.20
50-59
1 Xolisile Mwelase  46.51, 2 Philisiwe Khuzwayo 49.53, 3 Jenny Taylor 49.56
60 plus
1 Sandy Fismer 48.46 2 Judith Grove 50.27, 3 Jane Dickinson 51.10