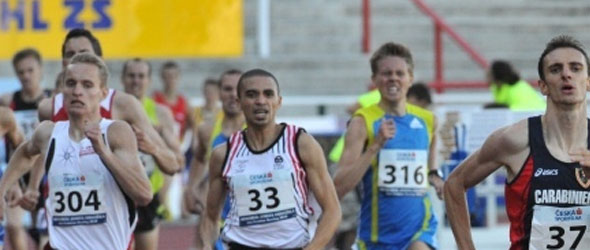 Elroy Gelant competed at the Meeting National D1 de Metz Moselle Athelor in France on June 27 and became the second fastest South African 3000m runner in the process, almost breaking the SA Record in the process (7:41.06 set up in 2008 by Juan van Deventer).  The versatile Gelant ran a brilliant race and won in 7:41.59 leaving his rivals to eat his dust.  Gelant's previous best was run in 2009 in Gent when he finished in 7:54.36.
Not even an Ethiopian and two Kenyans could stop Gelant from victory. Arega Dawit Wolde (ETH) finished 2nd in 7:42.65 whilst Kenyan Yusuf Biwott came in 3rd with 7:44.65.  Three other South Africans also competed.  Gladwin Mzazi crossed the line in 7:50.90 for 7th position whilst Gert Manora placed 8th (7:55.05).  Tshamano Setone crossed the line in 8:11.94 which was good enough for 14th position. Gelant, Mzazi and Manora join Steven Mokoka in the sub 8min club this year. Mokoka ran 7:55.92 in Potchefstoom on 19 February, at the Yellow Pages Meeting. Gelant is now ranked number two on the all time list behing Juan van Deventer. Third is still former SA Record Holder, Johan Fourie who ran 7:44.00.
Edwin Molepo won the 3000m steeplechase in 8:26.82, improving his PB of 8:29.47 set in Durban during the Yellow Pages SA Senior Championships.  Hassan Oubassour came second (8:27.49) while Abdelatif Hadjam came in for third place with 8:33.58.
Hannes Dreyer and Simon Magakwe both competed in the 100m and 200m.  The 100m saw Dreyer take 3rd place (10.42sec) while Magakwe came 4th with 10.44sec.  James Ellington (GBR) won while Idrissa Adam finished 2nd with 10.23sec and 10.31sec respectively.  James Ellington also claimed victory in the 200m race in 20.52sec while Magakwe had to be satisfied with 2nd place in 20.74sec ahead of the 20.78sec of Sebastian Ernst (GER).  Dreyer finished 5th with a time of 20.99sec.
In the 1500m Jerry Motsau finished 3rd behind two French athletes, Matthieu Le Stum and Florian Carvalho; the times 3:43.93, 3:43.94 and 3:44.80 respectively.
Mapaseka Makhanya competed in the women's 1500m and ran a SB finishing 3rd.  Mkhanya ran 4:31.45 in Hengelo in May and shaved some time from that and crossed the line in 4:16.77.  Denise Krebs (GER) finished 2nd just ahead of Makhanya with her 4:16.36.  The Kenyan Myriam Wangari won the race in 4:12.84.