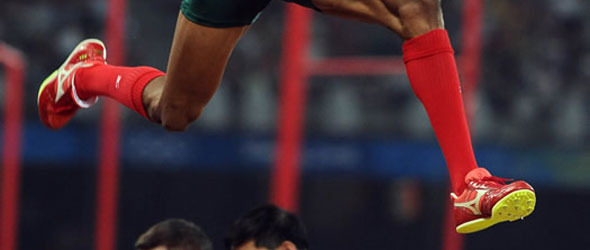 Khotso Mokoena and Caster Semenya scored season's bests at the Prefontaine Classic, Samsung Diamond League on Saturday 4 June in Eugene, Oregon.
Up until the third round of the Long Jump Competition, Mokoena was the only athlete over the 8m mark, with jumps of 8.11m, 8.19m, 8.19m and was comfortably in the lead. In round four Britain's Greg Rutherford hit 8.01m to join Mokoena over 8m.
However the Brit unleashed the big one in the 5th round, hitting 8.32m. Mokoena, ever the competitor responded with 8.31m for his best performance of 2011, but was not able to retake the lead in the final round. If the results had been awarded for consistency, then Mokoena would have been declared the winner by far as every single on of his jumps went over 8m. But the winner is he who jumps furthest, and Rutherford's 8.32m was good enough on the day.
Mokoena though will take heart from the fact that it is only a matter of time before he gets the big one as his consistency will win him competitions and with the wins comes the confidence to go far.
Caster Semenya dipped 2min for the first time this season in a heavily laden women's 800m race. Semenya was up against the likes of Pamela Jelimo, Janeth Jepkoskei, Kenia Sinclair and Maggie Vessey. Jelimo is the current Olympic Champion and Jepkoskei is a previous World Champion and World Championship silver medalist. Vessey and Sinclair were amongst the fastest in the field for 2011.
Coming into the homestretch, Sinclair was ahead of the field, and although Semenya tried to kick, she could not match the speed of the Jamaican on the day who clocked a World Lead of 1.58;29 to Semenya's 1.58;88 Season's Best.
Semenya's time is now third fastest in the World in 2011 and is a good indication that her build up to the World Championships is coming along nicely.
Sunette Viljoen finished 5th in the Women's Javelin with a throw of 60.09m and Oscar Pistorius clocked 46.33 for 8th in the men's 400m.
Earlier in the week, Mbauleni Mulaudzi finished 5th in Bydgoszcz in the 800m clocking 1.46;59. Mapaseka Makhanya was timed at 9.22;94 for a personal best over 3000m.