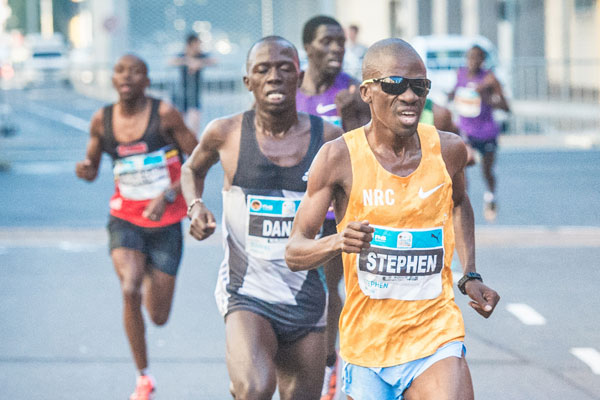 Joshua Cheptegei, the 2017 World Championship 10 000m Silver Medallist and Stephen Mokoka, the SA 10km Record Holder are the headline act in the inaugural FNB Durban 10K CITYSURFRUN on Sunday, 08 October 2017.
The announcement made on Tuesday, 05 September confirms the organiser's desire to make this race the fastest 10km in the World this year (2017). Currently the best time set in 2017 is 27:18 behind Bernard Kimeli of Kenya.
"We believe South Africa deserves to see the world's best compete on our soil, racing against South Africa's best," said Michael Meyer, Managing Director of Stillwater Sports. "Having the best athletes in the world competing in South Africa raises the level of competition for our athletes. This, in turn, raises the performance of our South African athletes. When these athletes line up in international races, they can do so with confidence. It is a win-win situation. Our athlete's standards improve and South Africa gets to see the world's best live."
With a fast and flat course starting in front of Moses Mabhida Stadium and finishing in the Beachfront Precinct adjacent to the Moses Mabhida Stadium, the organisers have pulled out all the stops to ensure a fast race in Durban on 08 October.
Speaking from Kampala (Uganda), Cheptegei is looking forward to racing in Durban. "Durban, I will see you on 08 October. I am looking forward to this and want to run a very fast time. It is a great honour for me to be invited to this race and I will do my best to make sure it is all everyone expects."
Stephen Mokoka is a regular at the Run Your City Series, having raced in Cape Town where he claimed gold at the FNB Cape Town 12 ONERUN in 2016, and Johannesburg where he placed 7th at the FNB Joburg 10K CITYRUN also in 2016. Mokoka relishes the opportunity to race the best in the world on home soil. "We need to show South African's how good we are. To be able to do that at home is very important. It helps grow the sport by encouraging more people to run and also inspires our youngsters to believe that they can compete with the best."
Upon hearing the news that Joshua Cheptegei will be on the start line on 08 October, Mokoka was literally chomping at the bit. "This is great news. Joshua is a very good racer. I competed against him in London at the World Championships in the 10 000m where he finished just behind Mo Farah. It is great that Stillwater Sports is bringing this calibre of athletes to South Africa. It inspires us."
Mokoka announced that he will be chasing his own SA Record of 27:38. "When we race against these athletes at home, we must put on a show. The course is flat. With athletes like Joshua Cheptegei in the field, it will be fast. I think that I can break my own SA Record." That record was set in Manchester in 2015, when Mokoka finished third at the Great Manchester Run.
World and SA Record Incentive
Mokoka's declaration promptly resulted in the organisers announcing a record incentive of R300 000 for the first South African athlete to break the National Record and R500 000 for a World Record (26:44 behind the name of Leonard Patrick Komon in 1988). "The athletes are hungry," says Meyer. "And if they put on a good show they deserve to be rewarded. Imagine a new SA Record or even a World Record run in Durban. That will make a big statement in South African athletics circles, and is bound to raise the level of competition and hopefully inspire international athletes to race more in South Africa."
Both Cheptegei and Mokoka were excited when told about the record incentives. "This is good news. When organisers offer these incentives, athletes are sure to put their hearts on the line. You will be treated to showdown in Durban," says Cheptegei.
Cheptegei boasts a best of 27:46 for the 10km, set in Laredo in 2016. But it is his impressive rise in performances since then that has the experts excited. Famously leading the World Cross Country Championships this year in front of his home crowd in Kampala, the Ugandan blew spectacularly going from 1st position to 30thin the final kilometre. To cleanse those demons, Cheptegei scorched two personal bests in the 3000m (7:34.96 – Paris, 1 July) and 5000m (12:59,83 – Lausanne, 6 July) before pushing Mo Farah to the line to earn himself that silver medal in the men's 10 000m at the World Championships where he clocked 26:49.94, shaving 20seconds off his previous best of 27:10.06.
EVENT INFORMATION: FNB Durban 10K CITYSURFRUN
Iconic landmarks to look out for on the FNB Durban 10K CITYSURFRUN route will include: the Moses Mabhida Stadium, City Hall and the Durban Railway Station to mention just a few.
Date: Sunday, 8 October 2017
Time: 08:00
Start Venue: Masabalala Yengwa Street, in front of Moses Mabhida Stadium
Finish Venue: Beachfront Precinct adjacent to Moses Mabhida Stadium