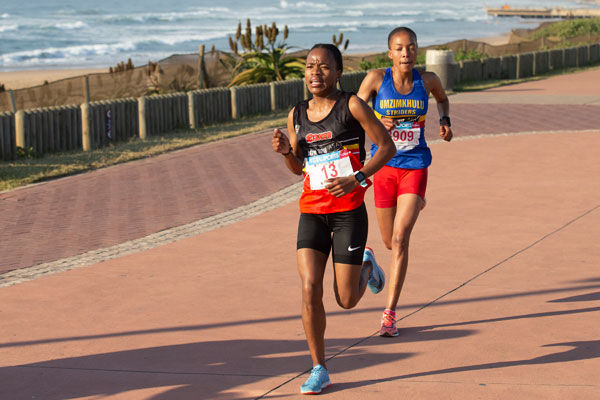 Glenrose Xaba proved to be in a league of her own at the Totalsports Women's Race Durban(Kings Park Athletics Track) on Sunday, 22 July 2018.
Glenrose Xaba wins Totalsports Women's Race Durban
Xaba celebrated her Totalsports Women's Race Durban debut by crossing the finish line first in an impressive time of 33 minutes 41 seconds. "I really enjoyed today," says Xaba. "The event was exciting. The organisers know how to put together a challenging 10km route. I was in front from the start, with a couple of other runners. When we reached the 7km mark I just maintained my pace until the finish. There was a lot of support on route, especially from the 5km runners. I am really excited and ready for my next race."
Jenet Mbhele was the 2nd runner to cross the 10km finish line. "This is the first time that I compete in the Totalsports Women's Race," says Mbhele. "I enjoyed the entire race. My goal was to better my time, which I did. I am really happy with my position. I definitely want to come back next year."
Fresh off of injury 3rd place finisher Tish Jones was feeling the nerves on the start line. "I was worried about a niggle that hurt during the warm up," confesses Jones. "For the first 3km I could comfortably keep up with the leading group. I knew that my fitness was not up to scratch though. A 10km race is short, sharp and painful. Glenrose comfortably took the lead from the 7km mark. I could always see her though."
"There was a tussle between Jenet and I," continues Jones. "I would overtake her, and then she'd get her second wind and over take me. It was a really good race. It was awesome to see the sea of pink on route. The vibe was relaxed, really nice with a lot of support. It was just more comfortable with less anxiety. It's about a bigger picture, the charity."
The Totalsports Women's Race Durban is the first of three races held annually in celebration of National Women's Day and in support of PinkDrive. The next two races will take place in Johannesburg and Cape Town on Thursday, 09 August 2018 (National Women's Day).
image by Rogan Ward
2018 Totalsports Women's Race Durban Top 8
1 Glenrose Xaba 00:33:41, 2 Jenet Mbhele 00:34:14, 3 Tish Jones 00:34:17, 4 Makhosi Mhlongo 00:35:52, 5 Mokulubete Makatisi 00:36:39, 6 Happiness Sonto Mkhize 00:38:11, 7 Nokuthula Ntshangase 00:39:05, 8 Simangaliso Madladla 00:39:12
NEXT UP: 2018Totalsports Women's Race
Date: Thursday, 09 August 2018
Venue: Johannesburg: Mary Fitzgerald Square, Newtown
Cape Town: Grand Parade, Cape Town CBD
Entry Fee: 5km / R80,00
10km Johannesburg unlicensed runner / R140.00 (temporary license included)
10km Cape Town unlicensed runner / R155.00 (temporary license included)
The 2018 Totalsports Women's Race (Durban, Johannesburg and Cape Town) boasts a combined prize purse of R123 600.
Each entrant will receive a fitted Event T-shirt, a finisher's bracelet, a Totalsports Head Scarf and can look forward to an exhilarating live performance by a well-known South African artist.