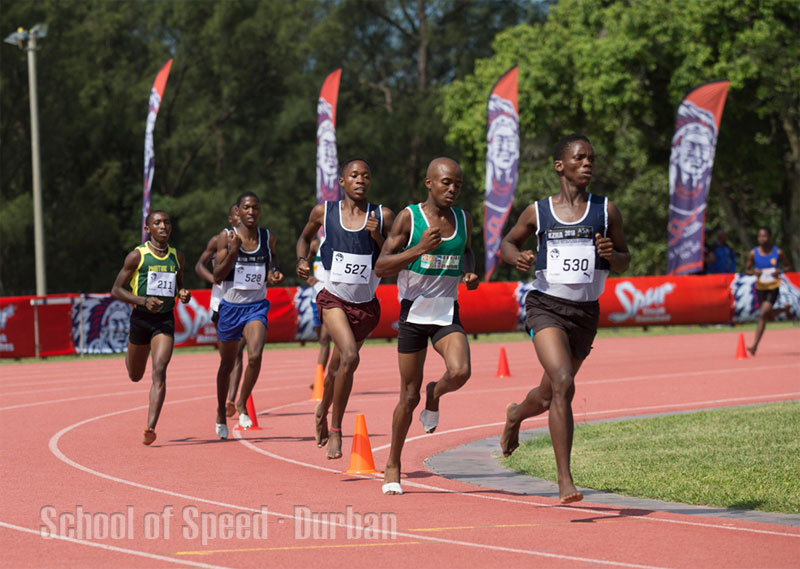 Durban – The PUMA School of Speed at the Kings Park Athletics Track today saw blistering performances from talented teenage High School athletes aiming to follow in the footsteps of PUMA School of Speed Principal Usain Bolt.
PUMA School of Speed Athletes Impress In Durban
The Durban track meet, the third of five PUMA School of Speed events to be held across the country in 2018, saw athletes competing in sprint races as well as short hurdles, long jump and high jump. With a PUMA contract up for grabs the following athletes produced stellar performances at Kings Park winning themselves premium PUMA spikes and Spur Steak ranches vouchers.
Simba Maketa of St George's School in Zimbabwe School completed the 200m race in a time of 21.47.
Siyabonga Ndlovuof Osizweni School finished his 1500m race in a time of 03:56.73and
Garrick Reesfrom the PUMA Invitational team ran his 1500min a time of 4:05.72
Over 45 schools showed up in exceptional style with Danville Park Girls claiming the title of 'Best Performing School' on the day.
"Durban schools and individual athletes really turned up the heat this year," says Stillwater Sports Managing Director, Michael Meyer. "We had over 45 schools represented on Saturday with incredible performances across the board."
PUMA Marketing Director Brett Bellinger says the series is all about encouraging participation in athletics, talent identification and rewarding performance excellence. "Well done to every single athlete brave enough to take to the track and to all the supporters for cheering them on. We hope to see just as much excitement when the PUMA School of Speed hits Paarlon the 26th of February," says Bellinger.
The PUMA School of Speed series is endorsed by athletics federations, so performances count towards qualification for provincial and national championships. The PUMA contracts up for grabs include premium running spikes and the opportunity to join PUMA's ambassador programme.
The 2018 series will continue on toDal Josaphat, Paarl on Monday February 26 and Bestmed Tuks Stadium, Pretoria on Saturday March 3 all to be attended by the School of Speed Vice Principal and PUMA Ambassador, Thando Roto.
photo credit Rogan Ward