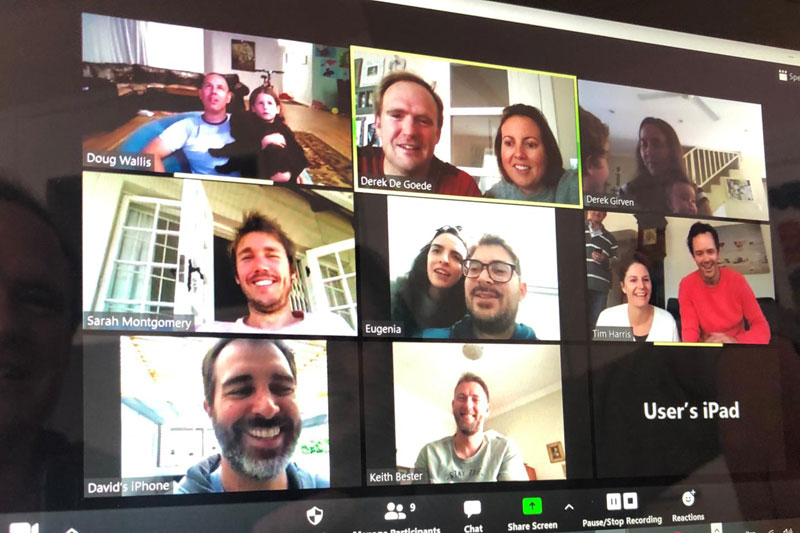 Inspired by the impact that global connectedness and action has made towards overcoming the challenges of "Covid19-Lockdown" seven friends, spread across seven towns on three continents, decided to have some fun together and ran a lockdown "Comrades" relay as a fundraiser for KZN Covid-19 Food Relief.
Seven mates relay run "the Comrades" to raise funds for Covid-19 relief
"We were delighted to be able to raise a total of R30,000 between us which we know will make a meaningful impact for people in need," said Doug Wallis, one of the runners.
The funds have been donated to a coalition of concerned churches convened by the KZN Christian Council, who are roll-outing out "Hope Vouchers" which are conveyed via SMS, to provide basic food and hygiene supplies to vulnerable families across KZN.
"The seven of us have been close friends for more than 25 years and are now living spread out across the world. Last weekend we decided to do an international Comrades Marathon relay style by each running 12.9km to do a combined total of 89.9km," explained Wallis.
Participating in the relay were school mates Doug Wallis (Brisbane, Aus); Rob "Oon" Jensen (Sydney, Aus); Steve Montgomery (Kloof); Dave Küsel (Cape Town); Tim Harris (Pringle Bay); Keith Bester (Johannesburg) and Derek de Goede (Surrey, U.K.). During High School they all lived in the upper Highway area of Kloof, Gillitts and Hillcrest.
"As teenagers we all lived on the Comrades route and we have great memories of growing up watching the Comrades together at different points in time. For me personally I have always been inspired by my dad who completed 12 Comrades," said Keith Bester, one of the runners.
Although the group comprised both runners and non-runners, they eventually agreed that completing the Comrades distance as a relay event would be a fitting challenge to do as friends who although living in different places could do this "together".
"We all had different restrictions depending where we live. In Australia we could train and run outside. I did my training at night running on the walkways in the local park which is also where I ran on race day. I started my run at 11am Brisbane time with Chariots of Fire music playing over a Zoom video conference so other could watch the start in the early hours of the morning where they were. Oon started his run immediately after I finished and ran his race in Sydney including over the Sydney Harbour bridge and ending at the beautiful Sydney Opera house. The South African based team could only be out between 6am and 9am so we had to accommodate that. Derek was unrestricted in the UK, so he ended the relay. We all dialled in to a Zoom video call at the end and cheered Derek on as he crossed the finish line! Along the run we kept each other updated with WhatsApp videos as we went so the next person could be ready and start on time and to keep us updated on progress." explained Wallis.
"This Covid-19 pandemic has effected all of us differently and we decided that we'd like to use the relay to raise money to help people that are suffering more than us during this difficult time," concluded Wallis.
A coalition of concerned churches convened by the KZN Christian Council, have flagged emergency relief as their most immediate focus and are roll-outing out "Hope Vouchers" to vulnerable families.
For what will be the first time in living memory, a broad and inclusive partnership of Mainline Churches, African Initiated Churches, Pentecostal Churches, Christian Ministries and Associations,
Ecumenical Networks; and Ministers' Fraternals – across all demographics, languages and geographical locations (all towns and villages in all 11 Districts and eThekwini Metro) – throughout KZN have united in response to the Covid-19 pandemic.
Church leaders invite businesses, organisations and individuals to contribute generously.