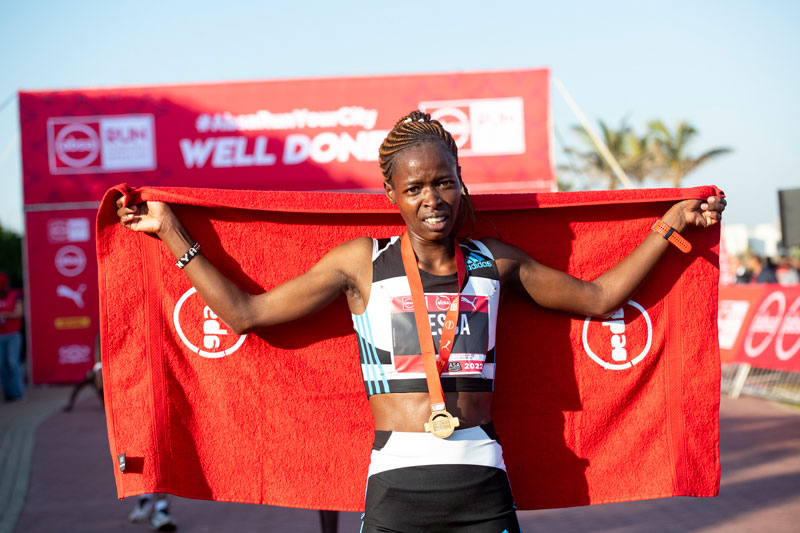 Kenya's Jesca Chelangat was in record breaking mood as she took 14 seconds off the South African All Comers Record at the Absa RUN YOUR CITY DURBAN 10K in eThekwini on Sunday 10 July, crossing the line in 30:41. Countryman, Isaac Kipkemboi, after two runner up positions in the Absa RUN YOUR CITY Series, was unstoppable as he romped home in 27:37, while Maxime Chaumeton became the first South African to go under 28 minutes on SA Soil, clocking 27:58.
Chelangat smashes All Comers Record as Kipkemboi destroys deep men's field at Absa RUN YOUR CITY DURBAN 10K
"We could not have asked for a better turn out today," said Michael Meyer, Managing Director of Stillwater Sports and Founder of the Absa RUN YOUR CITY Series. "A SA All Comers Record, five sub 28 min clockings and the first South African to break the 28min barrier here at home. Add to that the thousands of Durbanites who 'painted the City red'. Today's Absa RUN YOUR CITY DURBAN 10K was a big boost to road running in the City and in South Africa."
Isaac Kipkemboi, who had to play runner up to Kenya's Daniel Ebenyo at the last two editions of the Absa RUN YOUR CITY CAPE TOWN 12K and 10K, was in no mood to be thwarted again, and took the race by the scruff of the neck within the first 2km. Only Asbel Rutto and Namakoe Nkasi were able to stay with the blistering pace set by Kipkemboi. But even they had to concede to the relentless pace by Kipkemboi after 3km. And from there Kipkemboi was on his own. Behind him though Namakhoe Nkhasi and Abel Rutto were involved in a fierce tussle of their own for the last two podium positions.
Kipkemboi had too big a lead when he hit the promenade with around 3km to go and he was chasing the clock. By the time he broke the tape for the win, Kipkemboi had smashed his Personal Best by 27 seconds to finish in 27:37.
"I wanted to win and to run fast," said Kipkemboi. "That's why I came here. I did that. I am happy."
Nkhasi just edged Rutto (27:52 – 27:55). For Nkhasi this was not only a massive Personal Best (from 28:24 to 27:52), but also yet another Lesotho National Record.
Fifth across the line and first South African was Maxime Chaumeton whose 27:58 is not only a huge improvement on his Personal Best (28:30), but he became the first South African to dip under 28 minutes for the 10km on South African soil.
Jesca Chelangat, aided by pacemaker, Gladwin Mzazi, was even more ruthless than Kipkemboi. She had already opened a lead in the first kilometre. At 5km she was 20 seconds ahead of Diana Chesang. And come the finish, Chelangat had more than a minute lead on Chesang. But Chelangat had come to Durban for one reason and one reason only – to break the South African All Comers Record and her 30:41 is 14 seconds faster than the 30:55 of Sheila Chepkirui, run on this very course in 2019.
"I am so happy. I really wanted to break the record and to win, and I did that," said Chelangat. "Next year I want to be back and go even faster."
Absa Managing Executive Keketso Motsoene said, "On behalf of Absa, I extend our congratulations to everyone that participated in the Absa RUN YOUR CITY DURBAN 10K. We'd also like to extend our gratitude to our partners Stillwaters Sports, PUMA and DHL for matching our efforts towards the KZN flood relief fund during the Durban leg of the race. The funds will bring much light and hope to the communities of Durban. We trust our Team Absa Walk Run community on Strava also had a wonderful experience at the race – Together we can be more, Siyabangena."
Charity Support: When entering the Absa RUN YOUR CITY DURBAN 10K online entrants could choose to support five local charities: 1. LIV Village, 2. TREE (Training and Resources in Early Education), 3. Durban & Coast SPCA, 4. iThemba Lethu and 5. Reach For A Dream Foundation (RFAD).
Win a Car Competition: Ziningi Sibisi was the lucky runner that went home with a brand-new Chery Tiggo 4 Pro Urban! To be in the running to win this spectacular prize, runners had to enter the event, collect their race number and be on the start line.
#RunForDurban Campaign: Durban has been hard hit not only by the pandemic, but by riots and now severe flooding. Headline partners, Absa, PUMA, DHL, as well as the event itself each committed to giving back R1 for every 1km run and/or walked at the 2022 Absa RUN YOUR CITY DURBAN 10K on Sunday 10 July. Just by entering the Durban event, each runner and/or walker ensured that R40 was donated towards those that have been affected by the floods. The funds raised will be used to purchase non-perishable food items, shoes, clothing and blankets.
Exciting Time-Based Incentive Scheme: The 2022 Absa RUN YOUR CITY DURBAN 10K boasted an exciting time-based incentive
scheme that rewarded SA's elite runners on a sliding-scale at the event.
RESULTS: 2022 Absa RUN YOUR CITY DURBAN 10K
Date: Sunday 10 July 2022
TOP 10 MEN
1 Isaac Kipkemboi 00:27:37, 2 Namakoe Nkhasi 00:27:52, 3 Asbel Rutto 00:27:55, 4 Maxime Chaumeton 00:27:58, 5 Isaac Kibet 00:28:03, 6 Mbuleli Mathanga 00:28:03, 7 Abel Sikowo 00:28:08, 8 Stephen Mokoka 00:28:14, 9 Thabang Mosiako 00:28:26, 10 Reghen Magwai 00:28:29
TOP 10 WOMEN
1 Jesca Chelangat 00:30:41, 2 Diana Chesang 00:31:55, 3 Fridah Ndinda 00:32:25, 4 Glenrose Xaba 00:32:52, 5 Neheng Khatala 00:32:56, 6 Lebo Phalula 00:32:59, 7 Kesa Molotsane 00:33:19, 8 Cian Oldknow 00:33:23, 9 Cacisile Sosibo 00:33:33, 10 Gerda Steyn 00:33:53