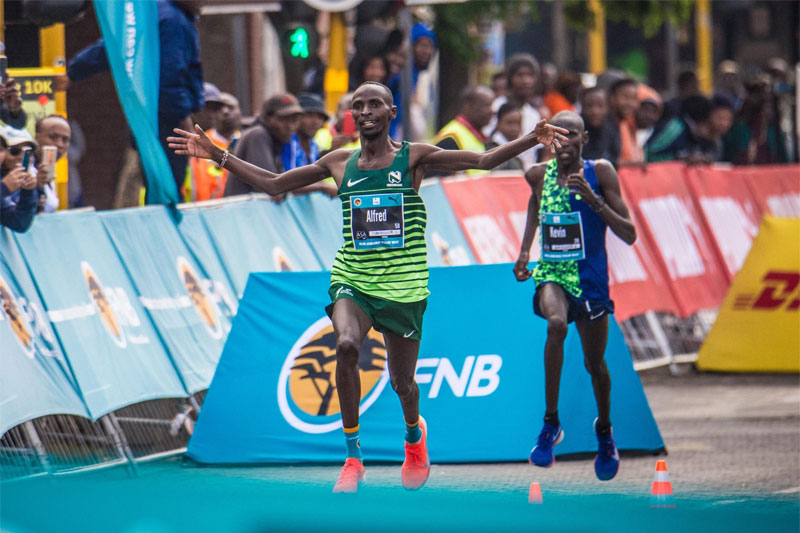 Kenya's Alfred Ngeno said before the race that he would win the FNB Joburg 10K CITYRUN. He was true to his word as he crossed the line one second ahead of Kevin Kibet in a new Course Record time of 29:16, taking 11 seconds off of the previous Course Record set by Filman Ande of Eritrea in 2018.
Ngeno smashes course record at FNB Joburg 10K CITYRUN
Some 15 000 runners lined up outside FNB Bank City in Simmonds street on Tuesday 24 September, National Heritage Day, for the 4th running of FNB Joburg 10K CITYRUN in near perfect conditions.
The FNB Run Your City Series has become synonymous with bringing in international athletes to compete against South Africa's best which has gone a long way to raising the standard and competitive edge of the local athletes.
True to form, the start was fast and furious, the first 2km passed in 5:20 and by 3km the leading pack had been whittled down to six. Ngeno, Kibet and South Africa's Elroy Gelant driving the pace, with former champion Namakoe Nkasi and Joel Mmone sitting comfortably behind the leaders. But when the route turned down towards the Ellis Park Sports Complex, the gaps appeared with only Gelant and Junior Albert Tonui keeping up with Kibet and Ngeno.
5km came and went in 14:37 and the course record was on. But the climb up to and past the half way mark had taken its toll on Gelant who had raced a marathon a week earlier and could feel that effort in his legs. Kibet and Ngeno threw in a surge and very quickly Gelant and Tonui were first 30m then 100m off the pace as the front pair raced up towards 8km.
Once the leading duo had broken Gelant and Tonui, they were content to pace each other all the way down to the final kilometer. In the closest finish yet in the FNB Joburg 10K CITYRUN, Ngeno dipped Kibet on the line with only a second separating the two.
Gelant, running in no man's land from 7km onwards came home in third, running his fastest time yet on this route, crossing the line in 29:38, ominous signs for his sub 28min onslaught for the FNB Durban 10K CITYSURFRUN on 13 October.
"I am happy to have won here today," said Ngeno. "The climb from 4km to 7km was tough, but I felt really good on the downhill to the finish. I was hoping to break Kevin (Kibet) earlier and not have to sprint for the finish. But I came here for the win and I got it. The course record is a big bonus for me."
Gelant too was ecstatic with his run. "The wind did bother me a bit from 6km onwards, especially as I was running alone. But I am really excited, especially so close to my marathon. I now have three weeks till the FNB Durban 10K CITRYSURFRUN. I want to break 28 minutes there. So this result, my best ever on this course, makes me very excited."
Junior Tadu Nare came within one second of the course record of Irvette van Zyl when she won the women's race in 33:53. Nare has been in devastating form in South Africa, but it was still a surprise that she would come in ahead of race favourite, Mary Nyaruai Ekiru who boasts a 15:33 5000m at altitude (Nairobi, 1795m). Nare had a 12second winning margin over Ekiru.
Comrades Champion, Gerda Steyn finished third again, but she was 27seconds faster than in 2018, clocking 34:31, boding well for her sub 33-minute onslaught at the FNB Durban 10K CITYSURFRUN on 13 October.
"I am ecstatic. My year is really going so well," said Steyn. "I pretty much ran my own race from the gun as Tadu (Nare) and Mary (Ekiru) shot away from us at the start. But I am really happy."
Steyn, like Gelant, has ambitions for the third and final in the FNB Run Your City Series, the FNB Durban 10K CITRYSURFRUN on 13 October. Steyn is eyeing a sub 33min and Gelant a sub 28min finish.
Results:
Men
1. Alfred Ngeno 29:16
2. Kevin Kibet 29:17
3. Elroy Gelant 29:38
4. Albert Tonui 30:05
5. Victor Chepkkwony 30:18
Women
1. Tadu Nare 33:53
2. Mary Ekiru 34:05
3. Gerda Steyn 34:31
4. Glenrose Xaba 35:19
5. Fortunate Chidzivo 35:46
"We would like to congratulate our customers, families, professional runners and all the participants from different walks of life who took part in this highly contested FNB Joburg 10K CITYRUN, especially the runners who demonstrated their devotion and endurance until the finish line. We are looking forward to seeing you at the FNB Durban 10K CITYSURFRUN in 13 October 2019," adds Bonga Sebesho, Head of Sponsorships at FNB.