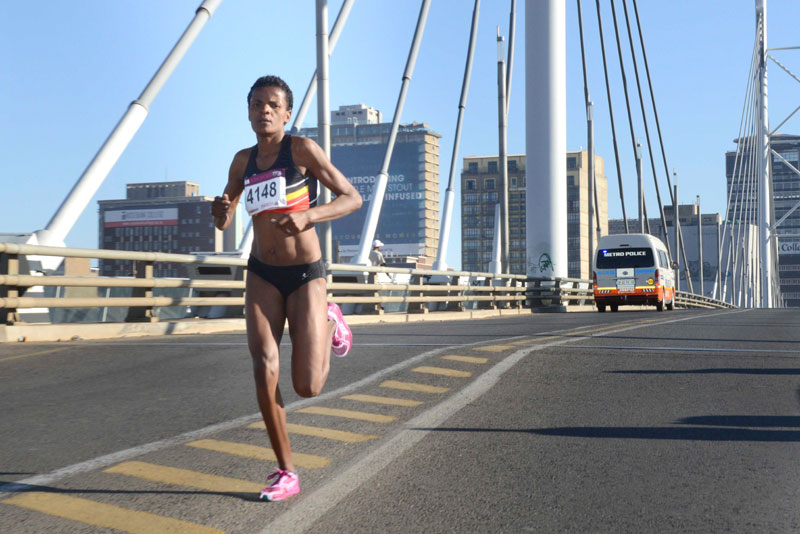 Newtown (Johannesburg)– PUMA ambassador, Lebogang Phalula celebrated National Women's Day at the Mary Fitzgerald Square, Newtown on Sunday, 09 August 2015 where she claimed victory in the 10km Totalsports Women's Race in a remarkable time of 33 minutes 22 seconds.
According to Phalula, it was really nice running at home. "There was a very nice vibe on the day. I was surprised by the support. Everyone seemed to know my name and shouted for me as I ran past. Taking part in a Women's Race on National Women's Day is very special. This is Ubuntu, power to the women. On Monday I will participate in the Totalsports Women's Race in Stellenbosch. I will be a social runner though as I want to help my sister achieve her goal of finishing the 10km race in 32 minutes."TebogoMasehlaclaimed the second spot on the podium, while Chery-lee Schoeman finished third.
Prominent 947 DJ, Gavin "Vin" Deysel showed his support on National Women's Day by cheering for the runners and walkers as they passed by the Fedhealth Fan Zone on route.
The Totalsports Women's Race supports PinkDrive, a Non-Profit Company (NPC) that is committed to improving breast cancer awareness, education, and providing and offering services to women across South Africa.
Taking place at the Mary Fitzgerald Square, the Johannesburg leg of the Totalsports Women's Race featured a historical touch.
– Registration took place at the Africa Museum.
– The route followed the Enoch Sontonga street, named after Enoch MankayiSontonga the composer of NkosiSikelel' iAfrika.
– The route also went through the suburb called Fietas, the only non-racial area during the apartheid era.
– The route passed the oriental Plaza which is known as a shoppers dream destination.
All entrants received an exclusive fitted Tee, while finisher's bracelets were handed to all runners/walkers as they crossed the finish line.
The Women's Day celebrations were closed off with a lively performance by South African hip hop sensation, Kwesta.