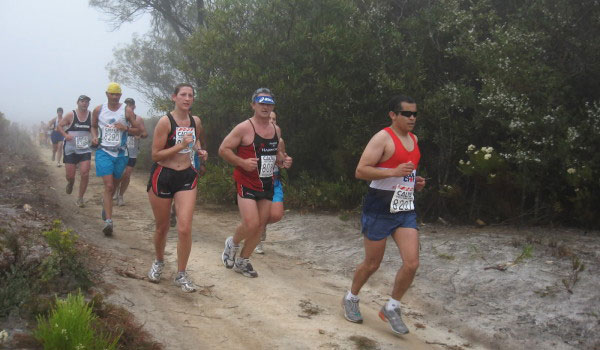 The historic Voet van Afrika Marathon, at Bredasdorp in the Overberg has been cancelled for this year. In what is regarded as bad news for South African athletes and the Overberg community the organising committee, including Mega Group, the Bredasdorp Athletics Club and the local authorities have to announce regretfully and after days of serious deliberation, that the Voet van Afrika Marathon, the half marathon and 10km as well as the Voet van Afrika MTB Challenge have been cancelled for 2015 only.
These races have been scheduled for Saturday October, 17 as part of the Mega Sport Classic weekend at Mega Park, Bredasdorp.
According to Orton King, Executive Group Director of Mega Group, organisers of this historic event for the past two years, unforeseen extensive road works and stop and go arrangements on the provincial road between Napier and Bredasdorp, made this unfortunate decision to call off the 2015 races, inevitable. "We are however already planning on the 2016 Voet van Afrika on Saturday 15 October, when the new routes, based on the historic Voet van Afrika Marathon trail in 1978 will be launched, accompanied by the complete Mega Sport Classic weekend from 14 – 16 October 2016," King said.
On behalf of all stakeholders King apologized for inconvenience caused to all athletes, stakeholders, local business, tourism and sponsors of the 2015 event. He stated that all online and hand entries already registered for the 2015 event will either be reimbursed to athletes or carried over to the 2016 event, as may be preferred by the individual entrants when contacted.
"As event organisers we have consulted with all stakeholders over the past days after we were informed by the local emergency and traffic authorities to consider an alternative route for this historic race due to the road works which commenced about three weeks ago and is, weather permitting, expected to near completion towards the end of October only.
"Every option was considered and we have investigated all possibilities and routes with our local emergency, risk and traffic divisions and the contractor without finding a safe and viable outcome."
King emphasized that this year the exciting and popular annual Bredasdorp High School Top 10 track and field championship for both primary and secondary schools will remain the highlight focus in the Overberg on Friday, 16 and Saturday 17 October at Bredasdorp High School. In addition the popular annual Toontjie community fun run on Friday evening and a comprehensive sport and youth leadership day on Saturday, 17 October, will still be presented. Detail will be announced.
"This year more than 60 schools from around the country, the Western Cape and as far as Namibia will join in state of the art record testing athletics. Some of South Africa's top youth athletes are expected and extraordinary performances are expected as during the past eight years.