Steven Mokoka and Mirriam Thole, 2010 Senior Champions, will defend their titles at the SA Cross Country Championships on Saturday 17 September at the University of the Free State in Bloemfontein.
Men 12km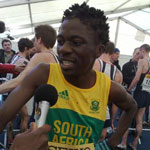 Mokoka has been improving steadily since the beginning of the year. He completed the 12km Cross Country Trials in 37:58min in Potchefstroom in January where he finished second. In the beginning of March he competed at the Africa Cross country Championships in Cape Town and finished 6th in 37:58. He then ran his best time this year in Punta Umbria, Spain at the World Championships in March, recording 35:10, his second fastest time ever at a major world and Africa cross country events. He finished 15th. Last year he claimed victory at the Championships in 37:32 so it should be interesting to see how much time Mokoka can slice from this.
Last year's runner up Kgosi Tsosane (38:03) will be in action again this year and would have gained some experience as he also made out a part of the team that represented South Africa in Punta Umbria, attending his 3rd World Championships. His three best times this year included 37:57 where he won the race ahead of Mokoka in Potchefstroom in January. Tsosane then also competed in Cape Town where he finished 5th, beating Mokoka once again. At the World Championships however, Tsosane finished 29th (35:48).
Another athlete competing will be the bronze medalist Xolisa Tyali. Although his times have been marginally slower this year than the 38:09 finish last year, he should still provide competition for most of the athletes competing on Saturday. His best time this year is the 38:29 ran in January in Potchefstroom. Cape Town and Punta Umbria saw him finish 20th and 100th in 38:38 and 39:20 respectively.
See head to head with Stephen Mokoka and Kgosi Tsosane
Location

Date

Time

Position

Stephen
Kgosi
Stephen
Kgosi
Potchefstroom
22 January
37:58
37:57
2nd
1st
Cape Town
6 March
37.58
36:32
6th
5th
Punta Umbria
20 March
35.10
35:48
15th
29th
Men and women's 4km
The men's 4km titles will be up for grabs as defending champion Juan van Deventer, as well as runner up Dean Brummer will not compete this year.
The same applies for the women's 4km race as Mapaseka Makhanya will not be there. Brummer and Makhanya will both be competing at Decanation in Nice, France.
Women 8km
Mirriam Thole won the title in 2010 in 29:05 and will be back to see if she can do it two years in a row, but this won't be an easy task as the Phalula twins, Lebo and Lebogang, will be eager. Lebo took 2nd place last year while Lebogang followed in her sister's footsteps and had to be satisfied with 3rd place, their times 29:39 and 30:01 respectively. This year was the time for Lebogang to shine as she beat her sister in three of the four 8km cross country events they attended, the only exception being the World Championships in Spain. This event recorded her fastest time of the year (28:29). Lebogang finished 2nd in Fuensalida in January and claimed victory at the Cross Country Trials in Potchefstroom.
See head to head Lebo and Lebogang Phalula
Location

Date

Time

Position

Lebo
Lebogang
Lebo
Lebogang
Fuensalida
9 January
36:14
34:30
6th
2nd
Potchefstroom
22 January
30:04
29:59
3rd
1st
Cape Town
6 March
29:58
28:56
20th
12th
Punta Umbria
20 March
27:23
28:29
44th
79th
Junior Men and Women
2010 champion Thobane Chagwe won the 8km in 25:57 but will be competing as a senior this year, leaving the field open for a brand new champion. Athletes to look out for are Merline Klaaste, Moses Dirane, Thato Molatedi, Sithembile Dondalo and Gift Mahlangu. These athletes all finished in the top 10 last year. Klaaste finished 4th last year and also competed in Potchefstroom at the Cross Country Trails in January and Punta Umbria in March. His times were 26:28 and 24:23 respectively.
The junior women's 6km race will also host a brand new champion as Idah Simon will not be competing this year while runner up Puseletso Dladla will also compete with the senior athletes. Mamphielo Sibanda finished the race in 23:31 the previous year and finished 4th. She will compete on Saturday but have not competed in any major competitions this year so it will be interesting to see what she can come up with.
The action starts at 09:00 at the University of Free State sports grounds and will be a day filled with events. The last event will start at 16:20