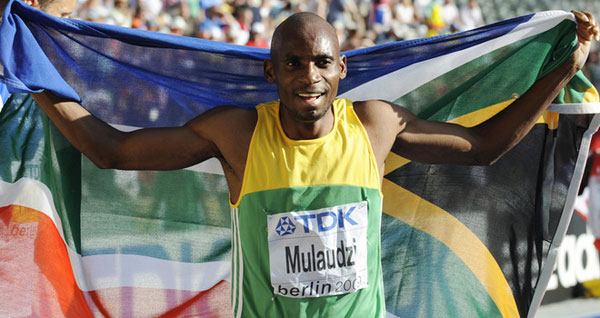 It is with great sadness that Athletics South Africa (ASA) has come to learn of the untimely passing of one of its greatest athlete, Mbulaeni Mulaudzi. Mr. Mulaudzi, born on 8th September 1980 tragically passed away on the 24th October 2014.
Born in Muduluni, Gauteng , he became South Africa's first black athlete to be ranked number one in the world.
Mulaudzi died in a car crash on 24 October 2014 at the age of 34.
Mbulaeni Mulaudzi 800m Career
Mbulaeni, was a South African middle distance runner, and the 2009 world champion in the men's 800 metres. Mbulaeni had the honour of carrying the South African flag at the opening ceremony of the 2004 Summer Olympics in Atlanta, Georgia.
His first international medal was a silver medal at the 2000 African Championships in Athletics. He competed at the 2001 World Championships in Athletics and finished sixth in his first global final. At his first Commonwealth Games, Mulaudzi won the 800m to become the 2002 Commonwealth champion. He won a bronze medal at the 2003 World Championships the following year, in addition to a silver medal from the 2003 All-Africa Games.
He came to prominence in 2004, when he won the 800m at the World Indoor Championships and at the 2004 Athens Olympics he won an Olympic silver medal. At the 2006 World Indoor Championships he won a silver medal, and he repeated the feat two years later at the 2008 edition. He represented South Africa at the 2008 Beijing Olympics but was knocked out of the 800 m at the semi-final stage.
He made the 800 m final at four consecutive World Athletics Championships, and won his first gold medal in the event in2009. He returned to competition in 2010 with a win at the Meeting Grand Prix IAAF de Dakar.
He was a warm and humble person and passionate about his sport and was always keen to assists those thousands of would-be 800m runners with advise, tips and autographs.
ASA and the sport of Athletics has lost a true son of the African soil, an exceptional athlete who will be sorely missed to our sport.
ASA extends its sincere condolences to his family and friends during their time of bereavement.
Olympic Games

Silver

2004 Athens

800m

World Championships

Gold

2009 Berlin

800m

Bronze

2003 Paris

800m

World Indoor Championships

Gold

2004 Budapest

800m

Silver

2006 Moskva

800m

Silver

2008 Valencia

800m

Commonwealth Games

Gold

2002 Manchester

800m

African Championships

Silver

2000 Algiers

800m

Bronze

2002 Rades

800m

All-Africa Games

Silver

2003 Abuja

800m

Silver

2007 Algiers

800m

IAAF World Athletics Final

Gold

2006 Stuttgart

800m

Silver

2007 Stuttgart

800m

Bronze

2009 Tessaloniki

800m

IAAF World Cup

Bronze

2006 Athens

800m