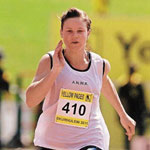 She was crowned the fastest youth runner in the country in 100m (11.82sec) and 200m (24.50sec) when she beat all her opponents at the SA Youth, Junior and u23 Championships earlier this year in Germiston.  In the 100m event she finished just ahead of Liezl Hechter from Central North West who ran the race in 11.99sec but in the 200m her closest opponent, Amanda Nagel, just could not beat her.  Nagel finished in 25.05sec.
Not only is Philippa van der Merwe the only athlete from the North Western Cape to represent South Africa at the Southern Region Youth Championships in Namibia this weekend, but she was also the first ever medalist for the province at an ASA Championship.
For seventeen year old Philippa it will be her first opportunity to participate at international level and although she is not sure what to expect she is very excited about this opportunity.  This dedicated athlete has only one goal in Namibia.  "My only goal is that I want to reach the final in both my events."  The fact that she is mentally prepared will definitely be an advantage for her as she never allows herself to focus on her opponents, but only on her own race.
When asked where she gets her amazing talent from, Philippa was quick to say that it comes from her dad and coach, Dr Schalk van der Merwe.  "My dad was a great 110m hurdles athlete back in the day when he studied veterinary science at the University of Pretoria and he is helping me train for the Championships.
What does the future hold?  Philippa is planning to become a physiotherapist one day specializing in sport injuries but still wants to participate in athletics, like she has been doing for the past 11 years.
For this girl from Postmasburg achieving so much despite very little competition and practically no facilities, the future sure looks bright.  With hard training and dissipline she is sure to achieve great things in the years to come.  The Southern Region Youth Championships will take place in Namibia on 28 & 29 May.