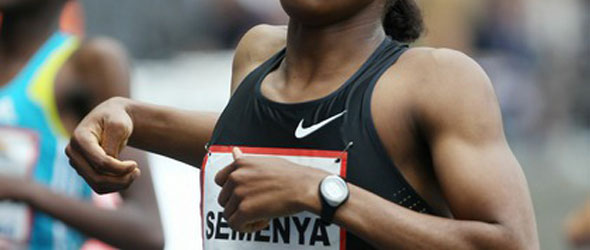 World champion Caster Semenya ran her fastest time this season to win the women's 800 meters at the IAAF World Challenge Dakar Grand Prix on Saturday. The South African led the field throughout at Leopold Sedar Senghor Stadium in her first international meet of 2011, crossing in 2 minutes, 0.61 seconds — more than a second quicker than her previous best this year.
The 20-year-old Semenya continued her buildup to the defense of her two-lap title at the world championships in Daegu, South Korea in August with a fifth win in five races this season, easing away from Cuba's Yusneysi Caballero. Semenya bettered the season-best 2:01.77 she ran in a provincial meet in South Africa in March, but is still to dip under two minutes this year — the target ahead of her 2011 Diamond League debut at the Prefontaine Classic in Eugene, Oregon next weekend.
The race was not easy as I did not achieve my best time," Semenya said. "I will try next time." A gender controversy sidelined Semenya for most of 2010 and a back injury then prevented her competing at the end-of-season Commonwealth Games after she was cleared to run. The world champion had made steady early season progress running at home, but in her first race outside South Africa this year she was still some way off the form that saw her blow away the competition to win at the 2009 worlds as a teenager
in 1:55.45.