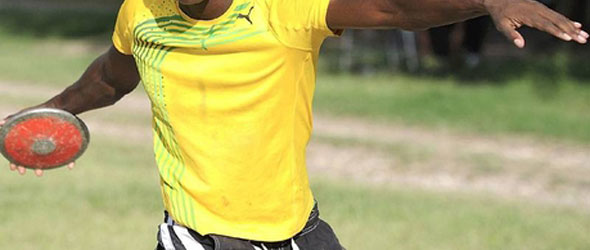 The first day of the World Youth Championships started out cold and windy with rainfall but cleared up as the day progressed.
Jan-Louw Kotze and Gerhard de Beer qualified for the final in the discus throw after their distances of 57.95m and 59.45m.  Gerhard de Beer then went on to become the first South African medallist of the World Youth Championships on the first day of the competition.  Pretorius threw a massive PB of 60.63m at his 5th attempt, good enough for the bronze medal.  The winner of the event Fedrick Dacres (JAM) won the gold medal with his final attempt reaching 67.05m, a new World Youth Leader.  The American Ethan Cochran claimed the silver medal as his 3rd attempt reached 61.37m.  Jan-Louw Kotze struggled to find his pace and finished in 5th position, his best attempt reaching 59.48m.
In the 100m hurdles Maryke Brits finished 3rd and qualified for the semi-final after she crossed the line in 14.04sec.  She was beaten by Trinity Wilson (USA) and Sandra Gottschalk (GER) who finished in 13.59sec and 13.73sec respectively.
In windy conditions (2.0) in the long jump, Duwayne Boer qualified for the final after his 7.20m jump at his 2nd attempt.    Amongst others, he will be up against Stefano Braga (ITA) and Clive Pullen (JAM). Pullen jumped 7.29m, a PB, while Braga finished just behind him with 7.27m. The final of the event will take place on June 7, 2011 at 18:00.
Bradley Britz and Sergeal Petersen both qualified for the semi-final of the 100m taking place on June 7, 2011 at 17:40*.  Finishing in the top 2 in a heat was the only way to proceed to the next round and these two did exactly that. In a very close race Britz crossed the line in 10.96sec, just behind Delano Davis (BAH) with 10.95sec.  Petersen booked his spot after he finished the race in 10.87sec.  Baban Bahaaldin Hasan (IRQ) qualified, finishing in 10.81sec. Bradley however won't be able to continue competing in the Championships as he tore his hamstring.
100m athletes Philippa van der Merwe and Liezl Hechter cruised their way into the semi-final.  In her heat, van der Merwe (11.95sec) finished behind Japanese athlete Anna Doi (11.83sec).  In another heat, Tamiris de Liz from Brazil beat Hechter when she finished in 11.84sec.  Hechter's 12.20sec was enough for 2nd place.  The semi final of the event will take place on June 7, 2011 at 16:50.*
In the 400m hurdles for girls, Izelle Neuhoff won easily and proceeded to the next round after winning her heat in 59.97sec.  Marina Swanepoel joined Neuhoff in the semi-final after crossing the line 3rd in her heat.  Her time of 1:02.24 ensured her a spot in the next round.
Tiaan Mouton and Constant Pretorius both qualified for the next round of the boys 400m hurdles.    Mouton finished behind Japanese athlete Shota Madokoro (53.46sec) with his 53.52sec.  Pretorius finished 3rd (52.30sec).  The semi-final will take place on June 7, 2011 at 18:55*.
In the octathlon, Lloyd Greeff finished 4th in the 100m after he ran 11.51sec.  This PB earned him 750 points, putting him overall in 13th position after the event.  Daley Carter (BAR) finished first with 11.32sec followed by two Russian athletes, Leonid Khomich and Evgeniy Likhanov with 11.34sec and 11.44sec respectively.  Interestingly enough, every athlete in this heat recorded PB's.
The long jump was the next event in the octathlon where Greeff's height was an advantage to him.  He finished 1st in his heat after a massive jump of 6.88m at the 3rd final attempt, another PB for him.  Felix Schmid (AUT) followed with 6.83m while the German athlete Jan Schenk's 6.80m was enough for 3rd position.   With this Greeff collected 785 points.
Greeff and 12 other athletes out of 14 in the heat recorded PB's in the shot put.  Greeff finished in 2nd place with 14.37m at his 3rd attempt.  Vadym Adamchuk's (UKR) 15.60m ensured him 827 points followed by Greeff's 751 points.
In the 400m Greeff had to be satisfied with a 6th place finish in his heat.  His 54.49sec meant another PB and 619 points to add to the collection.  The winning time in the heat was 51.71sec by Carlos Burlando (VEN).
Progress:
After 1 event: 13th position – 750 points
After 2 events:  7th position – 1535 points
After 3 events:  6th position – 2286 points
After 4 events:  15th position – 2905 points
*Times as scheduled found on the IAAF World Youth Championships website.