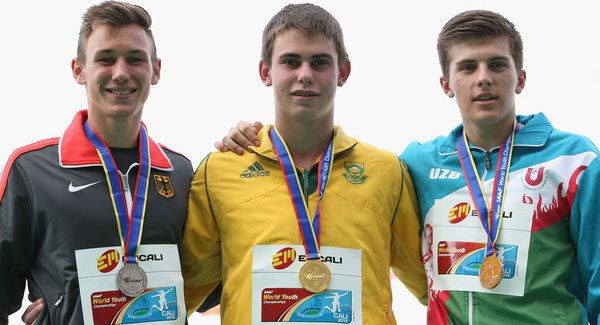 The South African team won a total of five medals with three coming on the final day of the IAAF World Youth Championships in Cali, Colombia on Sunday to finish fifth on the overall medal table.
South Africa's performances which include two gold, two silver and bronze are only surpassed by that of the inaugural championships in Poland in 1999.
That team also finished in fifth place winning four gold, a silver, and three bronze medals.
South African javelin thrower Paul Botha added his gold medal to Werner Visser's in the discus throw from the Saturday.
He launched a personal best heave of 78.49m on his second attempt to win the title.
"It means a lot to me, I've worked really hard for this and my dream finally came true," Botha said.
Second place went to Niklas Kaul of Germany thanks to his 78.05m with Uzbekistan's Vladislav Palyunin's 76.77m throw earned him the bronze.
Hercules van Vuuren could not reproduce his personal best throw from the day before bowing out in fifth place with 76.04m.
South Africa produced two medals from the 200m finals with Kyle Appel winning silver in the boys' race and Nicola de Bruyn in the girls' final.
Appel posted a new South African record with a time of 20.57 seconds to finish second behind Japan's Sani Brown.
Brown won the race in a new championship record of 20.34 with Josephus Lyles of the United States taking third in 20.74.
Gift Leotlela, who came into the championships as one of the favourites did not only relinquish his national record to Appel but also finished fifth in a time of 20.86.
De Bruyn set a new personal best time of 23.38 finishing in fast girls 200m final.
Candace Hill blitzed to a new world youth best time of 22.43 with her countrywoman Lauren Rain Williams winning silver in 22.90.
Appel produced some individual magic in the 4x400m medley relay to round off South Africa's medal tally with silver.
In medley relay the teams are made up of two boys and two girls with the teams deciding on the running order.
Andre Marich started the relay while Renate van Tonder and Taylon Bieldt ran the middle legs with Appel as anchor.
When Appel received the baton he had to eliminate a sizeable gap.
He produced a blazing run to win the silver medal with a photo finish reading determining the silver medal winner between after South Africa and Canada clocked 3:23.60.
The race was won by a dominant United States quartet that posted a time of 3:19.54.
Appel collapsed following his exhausting performance and had to be stretchered off but recovered to celebrate his feats.
On Saturday Visser lived up to his favourite tag winning South Africa's first medal in the boys' discus throw.
He claimed the title with a best heave of 64.64m, with China's Yuhan Wang winning silver with a 60.33m attempt.
Britain's George Evans finished in third place with his throw of 60.22m.