April wins in Hanover and books spot on World Championships Team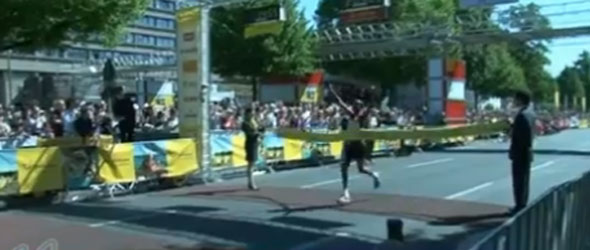 Lusapo April made good use of his knowledge of the Hanover Marathon course when he sprinted away from Kenya's Peter Kuriu to win on third attempt of racing in Hanover. April made his first appearance in the German City in 2009 when he finished 8th. Clearly Hannover is a happy hunting ground for him as he returned in 2010 to finish 5th and now the win.
His time of 2:09;25 saw him book his spot on the men's marathon team for South Africa for the World Championships alongside Steven Mokoka (he has opted to concentrate on the 10 000m in which he has also qualified). In hot summer conditions, April helped set the pace almost from the start, taking 24 athletes with him. This pack stayed together until the 25km mark before the surges started coming. The pace was upped so dramatically, that by 39km only April and Kurui were racing neck and neck. Only the high temperatures and in some places, strong headwind, prevented April from breaking the course record of 2:08;25 set in 2010 by Kenya's Yussuf Sangoka.
Earlier this year April had successfully defended his Old Mutual Two Oceans ½ marathon title and was looking forward to his race in Hannover.
April made his debut in the marathon in Hannover in 2009, was back there in 2010 and won the national title in February this year. His debut was timed in 2:14;19. The following year in Hannover he clocked 2:10;45 and won the national champs in 2:13;21.
South Africa now has a full compliment of women's marathon runners at the World Championships for the first time since South Africa started to compete at the Championships in 1993. Tanith Maxwell qualified in Berlin in September 2010, Annerien Van Skalkwyk in Singapore in December last year and now also Rene Kalmer in Prague on Sunday 8 May. With April the men now have their second qualifier alongside Steven Mokoka who ran 2:08;33 in Seoul last year in November. However as mentioned earlier, Mokoka will not be racing in Daegu Korea in the Marathon, but will be instead focusing on the 10 000m. That means that April – at this point – will be flying the SA flag on his own in the men's race.