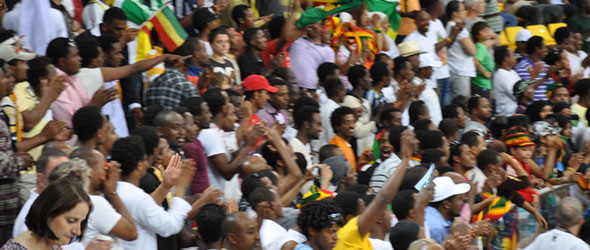 At the end of the 4 day African Junior Championships in Gabarone Botswana (they ran from 12-15 May) South Africa topped the medal tables with double the total medals won by runner up Ethiopia. Thirteen Golds, 13 Silver and 8 Bronze made for a total of 34 Medal – 12 more than South Africa won in Mauritius in 2009.
Clever selection, a new found enthusiasm for the sport and a core group of athletes who show immense potential and promise for the future all contributed to the best ever performance by a South African team at an African Junior Championships.
The result clearly showed South Africa's strengths and what ASA need to focus on to increase their medal tally in the future and build the sport. South Africa's success came in the sprints and hurdles as well as some of the field events. Sonya van der Merwe was the pick of the crop with Gold on the 200m individual sprint and two more Gold's in the 4x100m relay and 4x400m relay. Jean-Marie Senekal heads a list of 7 athletes who each won two medals at the Championships. Senekal was crowned champion in the 400mh and the 4x400m Relay, whilst Samantha Pretorius won two Golds in the Long Jump and 4x100m relay.
Kyla Gilbert won Gold in the 100m hurdles and Silver in the Long Jump (behind Samantha Pretorius); Chante van Tonder had to settle for the Bronze in the 100m, but bagged a Gold in the 4x100m relay.
Justine Palframan showed she had the potential to develop into a superb 400m runner. Her Silver medal was a Personal Best and sub 53sec clocking, and had she not panicked and wastec valuable energy to try and chase down Ethiopia's Manedo Fantu Magiso who had gone off like a bullet, it could well have been an individual Gold. Palframan though learned from that experience and ran a brilliant anchor leg in the 4x400m final to give South Africa Gold.
Gideon Trotter showed his versatility by winning the individual 100m and a Bronze in the 4x400m relay, whilst Shaun van Wyk won two Bronze medals – in the 400m hurdles and 4x400m relay.
34 medals from 61 athletes is not bad return at all and Athletics South Africa acting Chairperson James Evans expressed his happiness. "It was a good performance. We could have had more medals, had the men's 4x100m relay not been disqualified in the heats, but that happens to the best, ask the Americans and the British. But we are happy. There are some areas we need to address, in particular our middle distance events and some of the throws. But overall this was a very good performance by the Juniors."
Evans also stressed that in order to win medals, you need to create a winning mentality. "One of the biggest challenges our Senior athletes have is that when they get to major championships they are overawed. So getting them used to winning medals at Youth and Junior Level is an important step in creating future stars."
Medal Table at end of event
South Africa
Gold:13
Silver: 13
Bronze: 8
Total:  34
South Africa claimed 22 medals at the 2009 Africa Junior Championships held in Mauritius.
Ethiopia
Gold: 6
Silver: 4
Bronze: 7
Total:  17
Egypt
Gold: 6
Silver: 2
Bronze: 3
Total: 11