Twenty-seven Junior Women and 29 Junior Men have selected to represent South Africa at the Africa Junior Championships in Gaborone on 12-15 May – and a formidable team it is.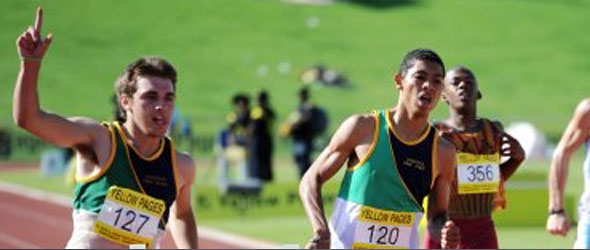 Of the 56 athletes selected, no less than 13 are in the top ten of the World Rankings and two are ranked number one in the world. This bodes well for South Africa's medal chances.Wade van Niekerk's 20.57sec winning time at the Yellow Pages SA Senior Championships sees him sit on top of the world, literally. He is the fastest half lapper in the world right now. Mpho Maputha's 8m leap at the Yellow Pages Junior Championships also sees him top of the pile. Whilst Samantha Pretorius (6.44m) and Roelf Pienaar (7.87m) both are ranked 2nd in the World.
New South African record holder in the Junior Men's 100m hurdles, Tsepo Lefete is part of a breed of sprinters coming out of the Free State – Wade van Niekerk is another one – and his 13.71sec run in Germiston sees him sitting at no 4 in the world. Only a Cuban, an Jamaican and an American lie ahead of the South African Junior Champion.
South Africa Senior Bronze Medalist Justine Palframan and SA Junior Champion Anri Steyn hold the 7th and 10th spot in the world respectively. Steyn clocked 53.69sec to win the Junior Title whilst a resurgent Palframan 53.35sec Senior Bronze Medal Performance is a clear indication that she is back to her best. Palframan is a class athlete with already a sub 53sec clocking behind her name at the Region VI meeting in Manzini, Swaziland in December last year.
All in all this is a strong team and will once again do South Africa proud.