During the past Southern Region Youth Championships that took place on 28-29 May 2011 in Namibia, the South African youth team delivered outstanding performances.  Central Gauteng saw five selected athletes compete and the result was an achievement of 8 medals in total for this young talented group.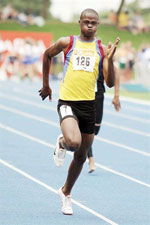 Runner Hendrick Khumalo participated in not only the 100m, but also in the 200m event and showed this competition why he is a force to be reckoned with.  He came home with two gold medals after winning both events.  In the 100m Hendrick crossed the line in 10.55sec to finish ahead of Bradley Britz (10.62sec). Sergeal Petersen came in third with 10.82sec.
During the SA Championships, Hendrick was beaten by Bradley (10.64sec) and Sergeal Petersen (10.55sec) when he ran a 10.72sec race, but showed that hard work can pay off.
In an interesting 200m race Hendrick delivered an outstanding performance and finished with 21.30sec.  His closest competitor, Fana Mofokeng from Free State, claimed the silver with his 21.84sec.
Siphiwe Tefo also came home with two medals after his performances at these championships.  He ran the 800m in 1:56.67 and came in just after Lerato Mosunyane from the Free State who took the gold in 1:55.97. This however is not his best performance as he ran 1:54.72 during the SA Championships in April.
In the 1500m race Siphiwe's performance was not good enough to win, but came in third after two other athletes, Nigel Amos from Botswana (4:00.65) and teammate Thumisang Monnatlala's performance beat him.  Siphiwe finished the race in 4:01.68 and added a bronze medal to his collection.
Thumisang ran hard and crossed the finish line in 4:01.05 for the second place.  He mentioned that his biggest challenge was the fact that nobody in the race wanted to run a good time and he was left to set the pace.  "I am very disappointed with my time, but now I know that you have to be prepared from the beginning to run a fast time."
In the girls shot put Lezaan Jordaan missed out on the gold medal as she just could not outperform Cecile Meyer, who did better than Lezaan in four of the six throws.  Lezaan put up one of her best performances ever, but the Western Province athlete did exactly the same, making sure that Lezaan's 13.22m throw at the third attempt came second.  Cecile managed 13.38m at her 4th attempt, the winning throw.
It was the first time ever for Lezaan to perform without the people who support her and said that she did not perform as well as she wanted to.  "I will have to learn to stay focused without the people who support me, like my parents and my coach," said Lezaan.
Thato Makhafola was another athlete with an outstanding performance as she won the 800m race quite comfortably.  She finished in 2:14.29 while Swaziland athlete, Nobuhle Mamba just could not match the same performance.  She finished in 2:19.66.