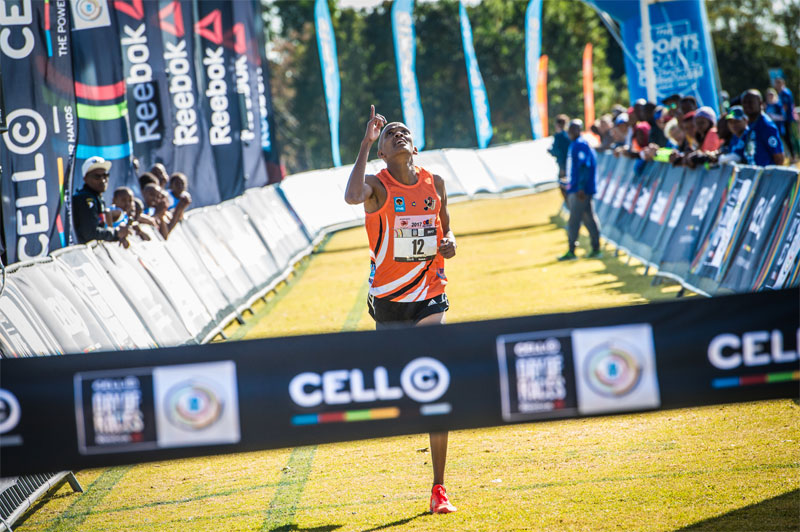 Johannesburg – Making their Cell C Day Of Races powered by Reebokdebut at the Roosevelt High School (Emmarentia) on Sunday, 11 June 2017, Jeromy Andreas and MamoralloTjoka obliterated the men's and women's field over 5km claiming gold in lighting fast times of 13 minutes 57 seconds and 17 minutes 10 seconds respectively.
Track to Road at Cell C for Jeromy Andreas
"I'm a track and field athlete. My focus is on 1500m and 5000m. My goal was to run a fantastic time and hopefully make top three," said a very happy Andreas. "There were so many top runners here today, including Gladwin Mzazi, Elroy Gelant and Lucky Mohale. The entire field was my competition. My plan was to stick with the lead group until the 4km mark and then break away. The race was fast, but magnificent. I wish we had more of these events. With all the top road runners competing, this could become one of the top road races in South Africa." Gladwin Mzazi came in second, while Desmond Mokgobu finished third.
Dominated by Mamorallo Tjoka, the Women's Elite Race attracted a strong field of up and coming athletes. Although her focus is on the longer distances (21km, 42km and 56km), Tjoka proved to be a force to be reckoned with leading the race from approximately the 2km mark. "There were a lot of younger runners on the start line today," said Tjoka. "My plan was to run fast from start to finish. One other runner kept up with me for the first 2km. From there I ran alone. I had a very good race and really enjoyed it. The Cell C Day Of Races is good for speed work. I am very happy to take the win." Liziwe Mabona came in second, while Kataza Shipalana finished third.
Whether a runner, a walker, a fitness enthusiasts or a fun seeker, the Cell C Day Of Races granted entrants the unique opportunity to "find their fit" by selecting the start wave that suited them best.Instead of going for gold, runners were encouraged to beat their Personal Best finishing times, be social, take photographs and videos at designated points on route, share it to the event's social media platforms and stand a chance to win magnificent prizes.
Nivea Sekelewas the runner to beat in the Pretty Fast wave claiming gold in 22 minutes 24 seconds. Helene Oberholzer came in second, while Louisa Janse Van Rensburg finished third.
In the Sole Mates wave Katleho Motloung was the first male runner home in 17 minutes 02 seconds, followed by Obakeng Moswane in second and Sentle Mokholela in third.
Khanyisile Dlamini was the first female runner home in 22 minutes 49 seconds. Tumisang Marolen came in second, while Alison Lailvaux finished third.
Chima Amadife was the first Young, Fast and Free: U18men's runner to cross the finish line in 16 minutes 01 second, followed by Mbuso Msibiin second and Sandile Dikana in third.
Kea Putuwas the first women's runner home in this wave in 15 minutes 32 seconds. Simphiwe Rade became in second, while NokuthulaXaba finished third.
The final wave of the day, the Anything Goes: Open wave saw Esah Miya claim gold in the men's race in 18 minutes 26 seconds. Ntsikothando Mani came in second, while Charlton Rossouw finished third.
BusisweSekete was the woman to beat crossing the finish line in 17 minutes 13 seconds. Hester Ntshe came in second, while Rearabetse Ndlovu finished third.
Charity Support: The Cell C Day Of Races supports The Sunflower Fund. Founded in 1999, The Sunflower Fund is a South African non-profit organisation dedicated to creating awareness, educating the public and facilitating the registration process for people to join the South African Bone Marrow Registry (SABMR).