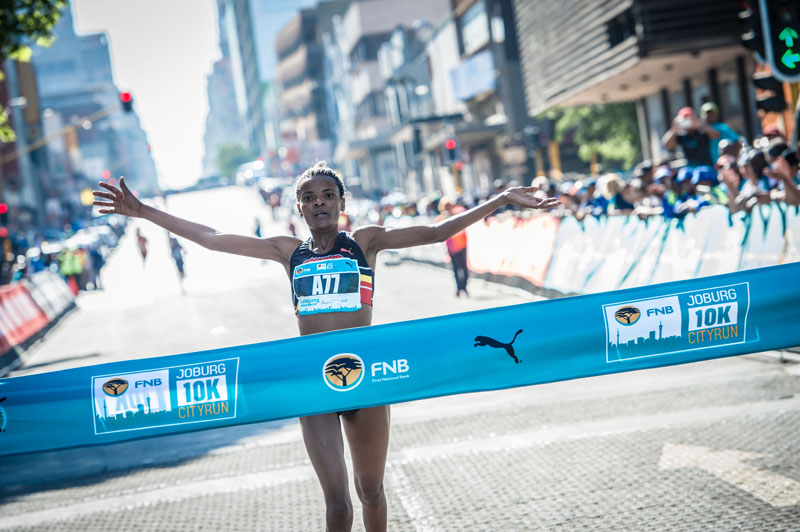 Johannesburg – The organisers of the FNB Joburg 10K CITYRUN are proud to announce that the prize purse for the 2017 event has increased to an impressive R212 000.
Celebrating its second anniversary in 2017, the FNB Joburg 10K CITYRUN attracted an impressive field of just over 11 000 runners in its inaugural year.
"We are excited to be able to offer an increased prize purse in 2017," says Michael Meyer, Managing Director of Stillwater Sports. "This impressive increase was made possible through the remarkable support received from sponsors and entrants alike. Prize money has been allocated to the top ten men's and women's finishers in the open category with the men's and women's winners each taking home a deserving total of R25 000. Prize money has also been allocated to the top three men's and women's finishers in the Junior, 40-49, 50-59, 60-69 and 70+ categories. We are proud to be able to reward Elite runners for the hard work that goes into achieving and maintaining the level at which they perform. We trust that the prize purse will inspire exciting racing and some fast times in all categories come event day. "
"Our goal for the FNB Joburg 10K CITYRUN was to create a unique running experience in the centre of Johannesburg that is based on international standards," continues Meyer. "With the inaugural event far exceeding our expectations, we will continue to pursue this goal by building on the successes of 2016. While the prize purse increase will mainly appeal to the Elite field, the everyday runner is also in for a treat and can look forward to mesmerising on route entertainment and a memorable route experience that will guide him/her through and/or past a number of Johannesburg's rich heritage sites. We hope and trust that all runners will be inspired by the running excellence on offer on the day."
To view the entire Prize Purse breakdown for 2017 visit www.joburg10k.com
EVENT INFORMATION:
Iconic landmarks to look out for on the FNB Joburg 10K CITYRUN route will include: the Nelson Mandela Bridge, FNB Bank City, Constitution Hill, Mary Fitzgerald Square, Wits University, Neighbourgoods Market and Ellis Park Stadium to mention just a few.
Date: Sunday, 24 September 2017 (Heritage Day)
Time: 08:00
Start Venue: FNB Bank City Johannesburg
Finish Venue: Mary Fitzgerald Square Newtown
Entry Fee: Standard Entry: R160.00 / licensed runner
Standard Entry: R180.00 / unlicensed runner
Gold Package: R850.00 / licensed runner
Gold Package: R870.00 / unlicensed runner
Entries Close: Friday, 11 September 2017
Each entrant will receive a magnificent Event Performance T-shirt.
Charity Support: When entering online, runners can choose to support either or all three of the FNB Joburg 10K CITYRUN Charities: the Johannesburg Heritage Foundation, the Johannesburg SPCA and/or the Reach For A Dream Foundation.