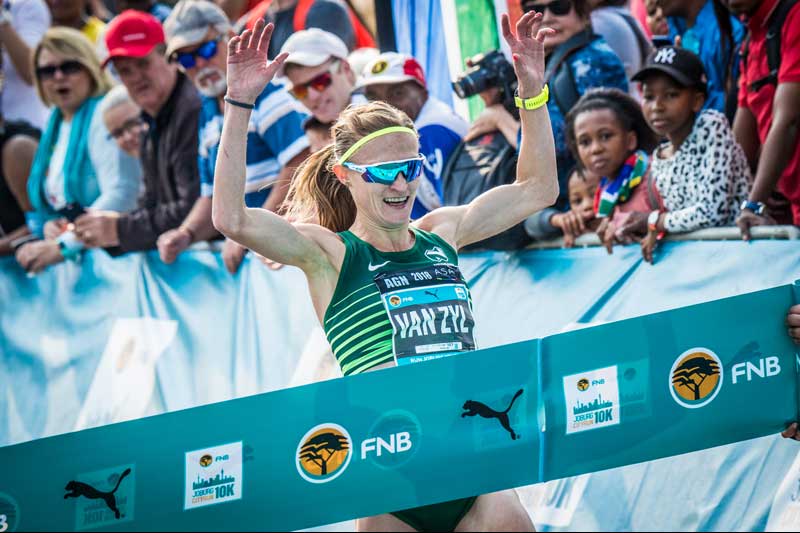 Eritrean Filmon Ande led the top three men at the FNB Joburg 10K CITYRUN to under the course record on Monday, 24 September 2018, while Irvette van Zyl capped an astonishing two days of racing by smashing the previous course record by almost 2 minutes, leading the top four women under the previous course record.
Ande, van Zyl smash course record at FNB Joburg 10K CITYRUN
The men's race started at a blistering clip up Harrison Road, with the first kilometre covered in around 2:40 before settling into a more reasonable pace. The first three kilometres though split the lead pack of 20 down to 10 with defending champion Thabang Mosiako, Elroy Gelant and course record holder, Namakoe Nkhasi in the mix. The bus, however, was being driven by Eritrea's Filmon Ande and Uganda's Mande Buschendich.
As the pack headed down towards the Ellis Park Sports Complex around the 4km mark, before the first of two big climbs, the pack was whittled down some more and as they hit 5km in 14:25, it was down to five runners. Ande, Bushendich, Mosiako, Nkhasi and Jobo Khatoane with Gelant beginning to falter.
By 8km, the lead was down to two with Ande and Buschendich going toe to toe up past Constitution Hill, before Ande broke away in the final kilometre, screaming home in 29:27, some 22 seconds inside of the previous record held by Nkhasi when he won in 2016 with 29:49. Second was Bushendich, clocking 29:37, with Nkhasi rounding out the top three in 29:40 – also inside the previous record.
In the women's race, Irvette van Zyl was on a mission. This was her first appearance at the race and she meant business from the gun. The first kilometre was covered in 3:06. Three kilometres went by in 9:28 while 5km was covered in 16:28 as she started to hit the climbs. By then she was running on her own in the women's race with Susy Chebet and Glenrose Xaba, the defending champion, a good way off the pace. Comrades Marathon runner up, Gerda Steyn was having an impressive race and was closing down on the tiring Xaba whom she passed in the final 3km.
There was no stopping the flying van Zyl who clocked the last 2km in 3:11 and 3:08 on the descent to the finish at Mary Fitzgerald Square. Van Zyl smashed through the finish ribbon in an incredible 33:51. A massive 1 minute and 40 seconds inside the previous course record of 35:34 set in 2016. The flying van Zyl had flown out of Cape Town the evening before the race where she had competed in a 10km which she won in her second fastest time ever of 32:48 – clearly van Zyl is hitting peak form a mere three months after giving birth to her second son.
Kenya's Susy Chebet was second across the line, clocking 34:30 while Gerda Steyn came storming through to the finish in an impressive 35:01.
"I must be fitter than I thought," said van Zyl after the race. "To run two really good times back to back like this, means that I am reaching another level in my running. I had no idea where the other ladies were so I just kept on pushing. But I had no idea I was on record pace, so that is a pleasant surprise."
"The incredible success of this year's FNB Joburg 10K CITYRUN, which included just over 13 000 runners and walkers, is a reflection of FNB's 180 year commitment to our beautiful country, our clients and stakeholders, and the city of Johannesburg," says Michael Vacy-Lyle, CEO at FNB Business. "Over the years, the FNB Joburg 10K CITYRUN has become a community event where Joburgers get to experience their City in a special way. For us at FNB, it is an opportunity to spend the day with our customers in our City. We would like to congratulate all the athletes that continue to keep the race competitive, and a very special congratulations to Filmon Ande and Irvette van Zyl, for winning this leg of the FNB Run Your City Series."
Starting in front of FNB Bank City, runners (and walkers) were treated to a 10km route experience that highlighted iconic landmarks and featured lively performances by a host of Joburg's leading performing arts groups before finishing at the Mary Fitzgerald Square. Iconic landmarks featured on route included: the Nelson Mandela Bridge, FNB Bank City, Constitution Hill, Mary Fitzgerald Square, Wits University and Ellis Park Stadium to mention just a few.
FNB Joburg 10K CITYRUN  TOP 10 RESULTS
Event: 3rd annual FNB Joburg 10K CITYRUN
Date: Monday, 24 September 2018
Start Venue: FNB Bank City Johannesburg
Finish Venue: Mary Fitzgerald Square Newtown
Male
1 Filmon Ande 29:27, 2 Mande Bushendich 29:37, 3 Namakoe Nkasi 29:40, 4 Thabang Masiako 29:58, 5 Jobo Khatoane 30:12, 6 Elroy Gelant 30:23, 7 Kabelo Seboko 30:30, 8 Lebenya Nkoka 30:33, 9 Omphemetse Mothibi 30:50, 10 Joe Mmone 30:58
Female
1 Irvette van Zyl 33:51, 2 Susy Chebet 34:30, 3 Gerda Steyn 35:01, 4 Glenrose Xaba 35:10, 5 Mamorallo Tjoka 35:38, 6 Caroline Fungisai 36:26, 7 Nobukhosi Tshuma 37:24, 8 Lebogang Phalula 37:55, 9 Maria Shai 37:57, 10 Liza Kellerman 38:40
PRIZE PURSE: The 2018 FNB Joburg 10K CITYRUN boasted an impressive Prize Purse of R250 000. Prize money was allocated to the top 10 finishers in the Open Category (male and female). The winner of the 2018 event took home an impressive R30 000 prize, while the 2nd and 3rd place finishers secured R17 000 and R13 000 respectively. The top 3 finishers in the junior, 40-49, 50-59, 60-69 and 70+ categories were awarded R3000, R2000 and R1000 respectively.
CHARITY SUPPORT: When entering online runners could choose to support one (or all three) of the event's charities: the Johannesburg Heritage Foundation, the Johannesburg SPCA and the Reach For A Dream Foundation.