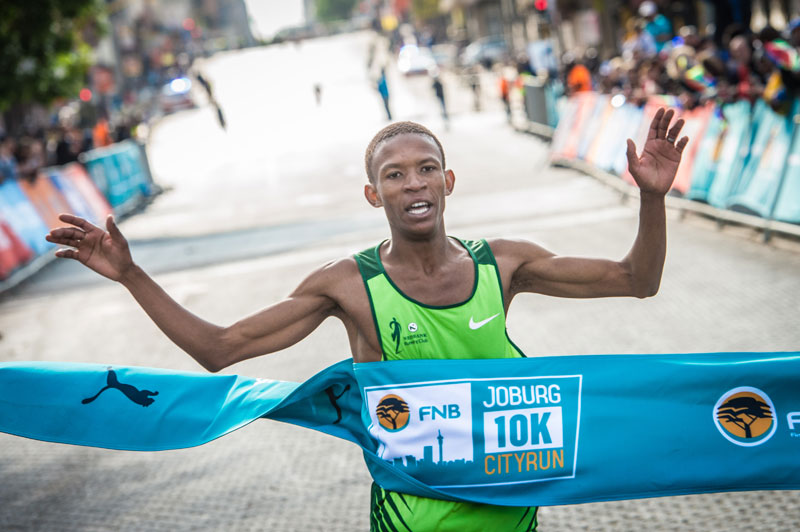 Johannesburg – It was expected to be a battle between inform Precious Mashele and SA 10km Record Holder, Stephen Mokoka at the 2nd annual FNB Joburg 10K CITYRUN, but it was Thabang Mosiako who spoiled the party to destroy a quality field on Sunday, 24 September 2017.
Thabang Mosiako king of  FNB Joburg 10K CITYRUN
In chilly and windy weather conditions, the who's who of South African Road Running along with close to 14 000 other runners lined up in Simmonds Street in downtown Johannesburg to take on the 2017 FNB Joburg 10K CITYRUN.
Precious Mashele, the SA Cross Country Champion was touted as one of the favourites, but seemed to have left his race face at home as he never featured. Instead it was David Manja who took on the role of pace setter in the first 3km which were passed in 8:32 with a big bunch of 20 runners eyeing each other out.
Just before the 4km mark on the steep decent past Ellis Park, Thabang Mosiako surged to the front. Once on the long climb towards Constitution Hill, Stephen Mokoka and Lucky Mohale joined Mosiako and proceeded to push the pace. The rest of the field dropped off rapidly. The trio went through the halfway mark in 14:49. It was then that Mohale started to struggle, Mokoka started to push the pace, opening a gap of around 20m over Mosiako.
The plucky Mosiako fought his way back to Mokoka by the 7km mark which came and went in 20:57. As they hit the top of Constitution Hill, Mosiako threw in a surge which left Mokoka reeling. The final 2km was a steep descent down to Mary Fitzgerald Square in Newtown. Although Mokoka tried to close Mosiako down, the gap was too big and Mosiako claimed the biggest win of his career, crossing the line in 29:51, with Mokoka some 25seconds behind and Gladwin Mzazi rounding out the top three.
"I am very happy with today. This is a good win for me, especially beating Stephen (Mokoka). Breaking 30 minutes on this course is really good," said Mosiako. "Now I am focusing on the FNB Durban 10K CITYSURFRUN. I want to break my PB and run under 29 minutes."
Glenrose Xaba came into the race as the form athlete and did not disappoint. The diminutive 22-year-old broke away on the climb and was never headed. Xaba crossed the line in 35:39. Nolene Conrad had a solid race to finish in second (36:12) with Rudo Mhonderwa finishing third (36:40).
"This was a tough race, but I knew after winning the Cross Country Titles (Xaba is both the 10km and 4km National Champion) that I was strong and that I could deal with the hills," said Xaba.
Themba Mabizela: FNB Business Provincial Head for Gauteng South and Central says, "Congratulations to all the top performing winners for their endurance and consistency throughout the race. A special thank you to every Joburger who took part in the race as each one of you made this a special event. It is satisfying to be a part of something that seems to grow from strength to strength each year. We hope that the race continues in its positive uptake and that more and more of the people who work, live and play in Joburg participate in the coming years."
The 2nd annual FNB Joburg 10K CITYRUN started at FNB Bank City Johannesburg and finished at Mary Fitzgerald Square Newtown. In celebration of Heritage Day, iconic landmarks featured on route included: the Nelson Mandela Bridge, FNB Bank City, Constitution Hill, Mary Fitzgerald Square, Wits University, Neighbourgoods Market and Ellis Park Stadium to mention just a few.
RESULTS: 2017 FNB Joburg 10K CITYRUN
Elite Men
1 Thabang Mosiako 00:29:51, 2 Stephen Mokoka 00:30:15, 3 Gladwin Mzazi 00:30:35, 4 Mbongeni Nxazozo 00:30:37, 5 Precious Mashele 00:30:41, 6 Xolisa Tyali 00:30:46, 7 Lebenya Nkoka 00:30:49, 8 Lucky Mohale 00:30:52, 9 David Manja 00:30:54, 10 Joel Mmone 00:31:10
Elite Women
1 Glenrose Xaba 00:35:39, 2 Nolene Conrad 00:36:12, 3 Rudo Mhonderwa 00:36:40, 4 Rutendo Nyahora 00:36:56, 5 Mapaseka Makhaya 00:37:16, 6 Christine Kalmer 00:37:34m 7 Maria Shai 00:37:41, 8 Lebogang Phalula 00:37:52, 9 Marelise Retief 00:37:57, 10 Rachel Leistra 00:38:20