The past 3 days at the World Championships was action packed with some great achievements including Ruben Ramolefi breaking the South African record in the 3000m steeplechase and a personal best by Wenda Theron in the women's 400m hurdles.
Ruben Ramolefi broke his own South African record in the qualifying rounds of the 3000m steeplechase in very hot and humid conditions on day 3 of the World Championships in Daegu, South Korea.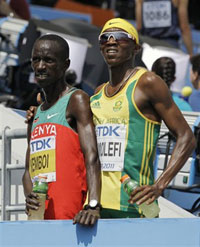 With temperatures reaching 30 degrees Ramolefi took advantage of this as he lead from the start of the race.  He crossed the line in 8:11:50 and finished 2nd, allowing the defending champion,Kenyan Ezekiel Kemboi (8:10:93) to pass him in the last 50m.   He was well on his way to a great qualifying time with 2.45:43 recorded at the 1000m mark and 5:27.81 at the 2000m mark, faster than anybody in any other heat.
The previous SA Record (8.11:63) was set up by Ramolefi himself in 2009 in Monaco, France.  The final is on Thursday 1 September.  The event will be broadcast live on Supersport (SS7, SSM & SH2) at 13:25.
More action this morning included Wenda Theron running a personal best in the heats of the women's 400m hurdles.  She finished 3rd in 56.13sec, improving on the 56.24 run in Germiston in March.  See her in action tomorrow, 30 August, on Supersport at 12:00 in the semi-final where she will be up against world-ranked no 4 and defending World Champion Melaine Walker (JAM) and sixth ranked Natalya Antyukh (RUS), who finished ahead of her in the heat with times of 54.86sec and 54.88sec respectively.
In the men's 400m hurdles both LJ van Zyl and compatriot Cornel Fredericks qualified for the semi-finals of their event.  Van Zyl winning his heat in 48.58sec, while Fredericks easily qualified in 2nd place (48.52sec) with David Greene (GBR) also crossing the line in 48.52sec.  Van Zyl and Fredericks will be in action tomorrow in the semi-final.  Van Zyl has drawnBershawn Jackson (USA) in his semifinal, whilst Fredericks faces Jeshua Anderson and Angelo Taylor.  Javier Culson (PUR) will want to defend his silver medal in the final.  The event will be broadcast at 12:30.
Pistorius finished 8th in the semi-final of the men's 400m (46.19sec).