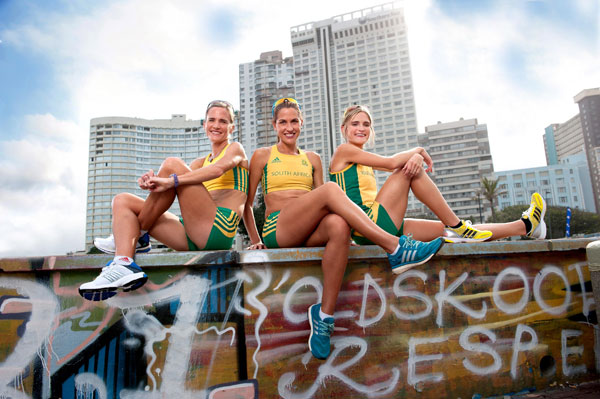 SA Team to London 2012 – Tanith Maxwell on the left
The local lass and leading lady of KwaZulu Natal road running will be lining up at this year's SPAR Women's 10/5km race that takes place this Sunday (23 June). Maxwell was one of three South Africans that competed in the London Olympics last year and has just returned from a very successful run in the states finishing tenth in San Diego. Maxwell has also just been selected to compete in the World Champs
1 Favourite dessert / sweet?
Desserts in general are a favourite, but I guess crème brûlée edges ahead of everything else!
2 Favourite movie?
Enjoy historical movies, but I think 'atonement' stands out above the rest!
3 If you could go see any band live, who would it be?
I honestly don't know! I like music, but am not into live concerts so nothing comes to mind!
4 Have you ever arrived at an event and discovered you didn't have your running shoes?
Not quite as bad as no shoes, but I did arrive with no liners in my shoes! It was a very hard run and the blisters were dreadful!
5 Best road trip to an event?
I think it has to be traveling down to race the 'Voet of Afrika' in Bredasdorp! Had never been there and I had quite a raucous bunch of runners that I had organized a lift with! Not the usual way I travel to events!
6 A moment that stands out for you while competing?
I think stepping onto Tower Bridge in London during the Virgin London Marathon! It's such an amazing landmark and to have the whole bridge to yourself makes it extra special!
7 What do you think about while running?
Get asked this a lot and I really have to sit and think about it! Easy runs I can think about literally anything, but harder training sessions ……well then nothing!
8 Best conditions to run in?
Being a Durbanite I like the warmer conditions! Tried to run a race in March in Poland and couldn't get my legs to function properly!
9 If you could shake anyone's hand and hang out with them for half an hour, who would it be?
The Queen, Queen Elizabeth! Have always been an avid supporter of the English monarchy and Queen Elizabeth is a remarkable figure!
10 A day in the life of an SA Marathon runner entails…
Gosh there is not much besides eating, training and sleeping! It really does get that monotonous and boring during heavy training!
11 Best part of the London Olympics?
Have to give you two! First, walking into the stadium for the opening ceremony and the second coming down the finish of the Olympic marathon in the Mall outside Buckingham Palace! Both magical moments!
12 Favourite destination?
Love Scotland! Nothing beats training in the highlands around a picturesque loch! The weather can let you down though!
13 New Year's resolutions – did you make any and have you stuck to it / broken them yet
Don't make New Year's resolutions! Some friends and family tend to make for me, but I never stick to those either!
14 Early morning catches the worm or late night owl?
Definitely an early worm, fade significantly from 9pm!
15 Sugar or spice?
Sugar, can't get enough!
16 10km or Marathon?
Marathon for sure! Don't have the zippy 10km speed!
17 Left or Right foot first
Right! I'm right handed and not very coordinated!
18 Rugby, soccer or Cricket? (Give team names)
Has to be rugby, and it's the sharks all the way!
Pic by Val Adamson